With last year's estimate of Father's Day spending forecasted at a record-high $20.1 billion by the National Retail Federation, one can only assume that fathers, husbands and sons will fare equally as well—if not better—this upcoming June holiday. And, rightfully so, as we collectively adjust to new norms that have made gestures of love, adoration and appreciation carry extra meaning and significance. In an effort to help retail thrive as you strive to please dear ol' dad, here's an assortment of gift ideas that'll dutifully delight.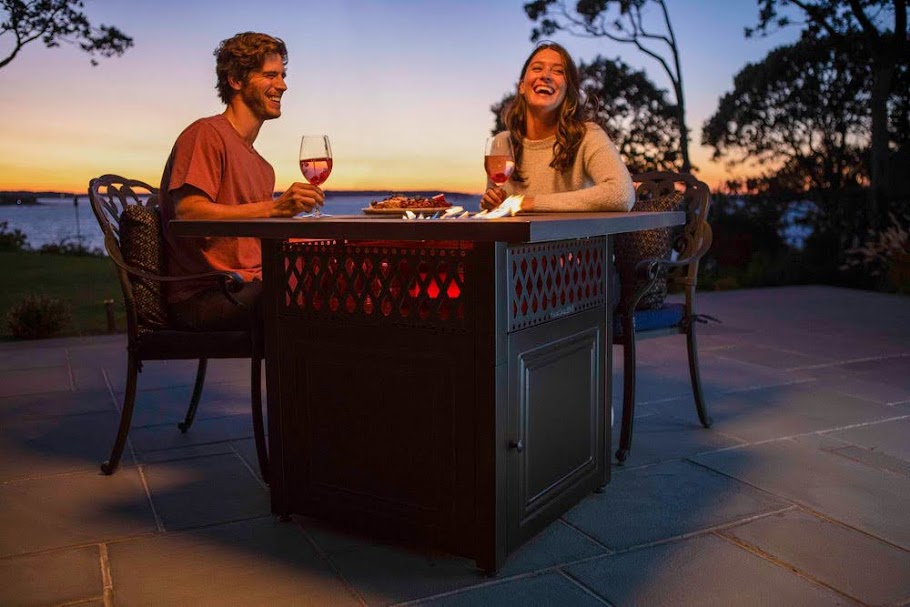 'The Donovan' Endless Summer DualHeat Fire Pit (https://www.outdoormarketplace.com)
With the Endless Summer DualHeat Fire Pit, dad's outdoor enjoyment can be elevated with both ambiance and heat. "The Donovan" 38-inch Outdoor LP Gas Fire Pit model includes patented DualHeat Technology, which combines a traditional gas firepit with an infrared patio heater below the mantel totaling 41,000 BTUs of heating power (30k BTU upper burner /11k BTU lower burner for the built in patio heater). The additional patio heater element provides true body warmth. The versatile unit is designed to be used in four ways; firepit, patio heater, fire pit plus patio heater or add the insert and use as a table, making it adaptable and built for functionality. The exterior features a UV printed resin mantel in a handsome gray wood look, also with a stamped steel base in black finish. It has a patented Hide-A-Way Door feature as well. The Donovan comes complete with decorative firepit glass for a glistening effect, cover and UV printed steel insert.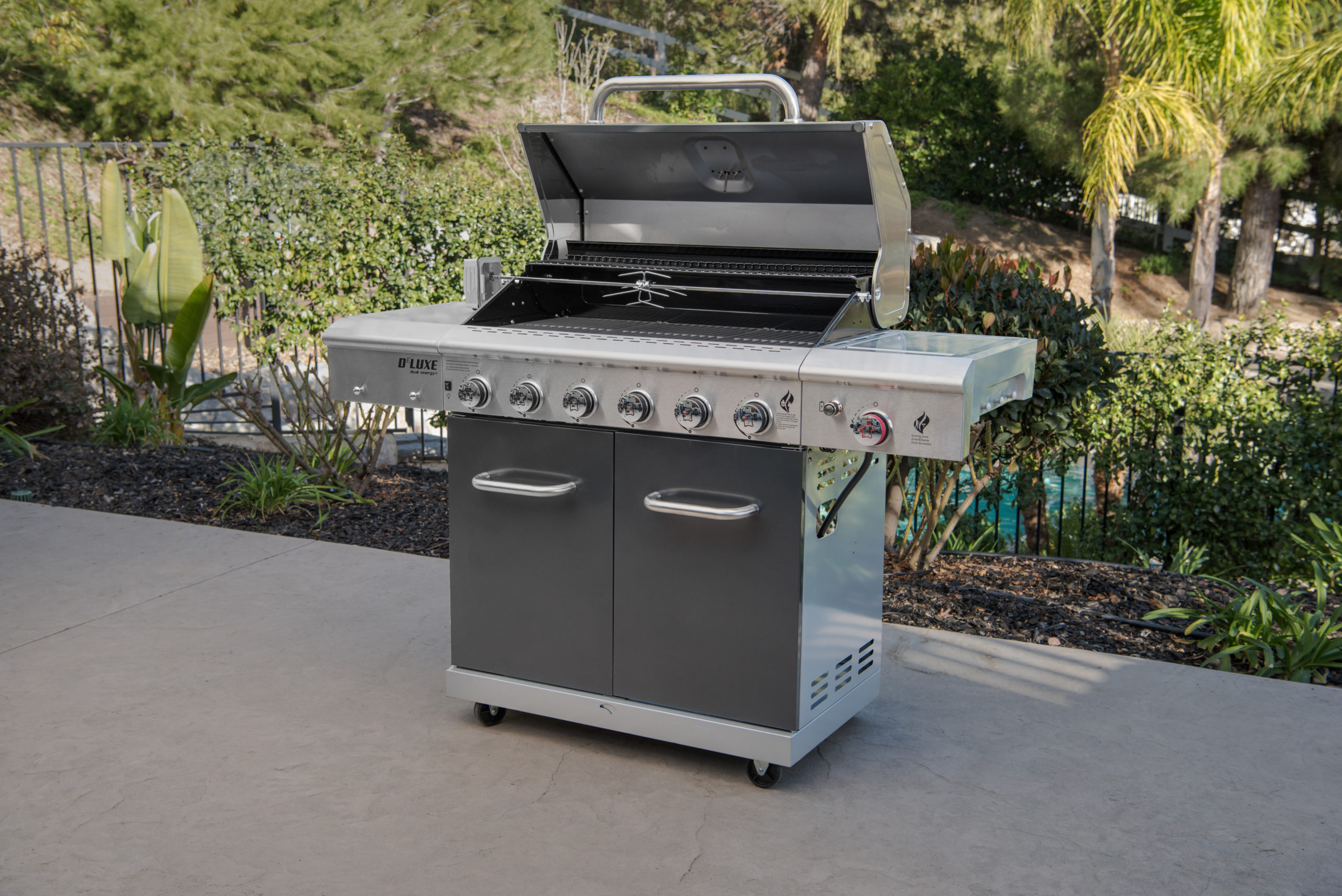 Deluxe Series 6-Burner Gas Grill by Nexgrill (https://nexgrill.com)
For dads who love to cook, spend time outdoors, or optimally both, the Deluxe Series 6-Burner Gas Grill from Nexgrill is a great option as a holiday gift—or to celebrate him with a tasty grilled feast. With a spacious cooking area and individual control knobs, this grill is perfect for everyday or large gatherings. It boasts a massive 560 square inch primary grilling area with six stainless steel burners, and is outfitted with porcelain-enameled cast iron cooking grates that retain heat exceptionally well. An upper-level, 200 square inch porcelain-coated warming rack heats up buns and keeps cooked foods toasty. Perched above the main firebox burners are angled flame tamers that deflect heat, prevent flare-ups and vaporize drippings into flavor infusions that permeate foods with a distinctive smoky taste. Its Even-Heat System distributes consistent and uniform warmth across the entire grill surface, so there aren't any hot spots. An electronic ignition function allows burners to fire up instantly and the built-in thermometer enables precise temperature regulation. For nighttime grilling, engage the blue LED lighting system to illuminate the front control panel for no-fuss operability. Use the included rotisserie kit to evenly cook chicken, roasts, pork or anything else you want to rotate on a spit. This grill model is also convertible to natural gas and equipped with a ceramic searing side burner that completes steaks to juicy perfection—helping him (or you) craft the perfect outdoor meal!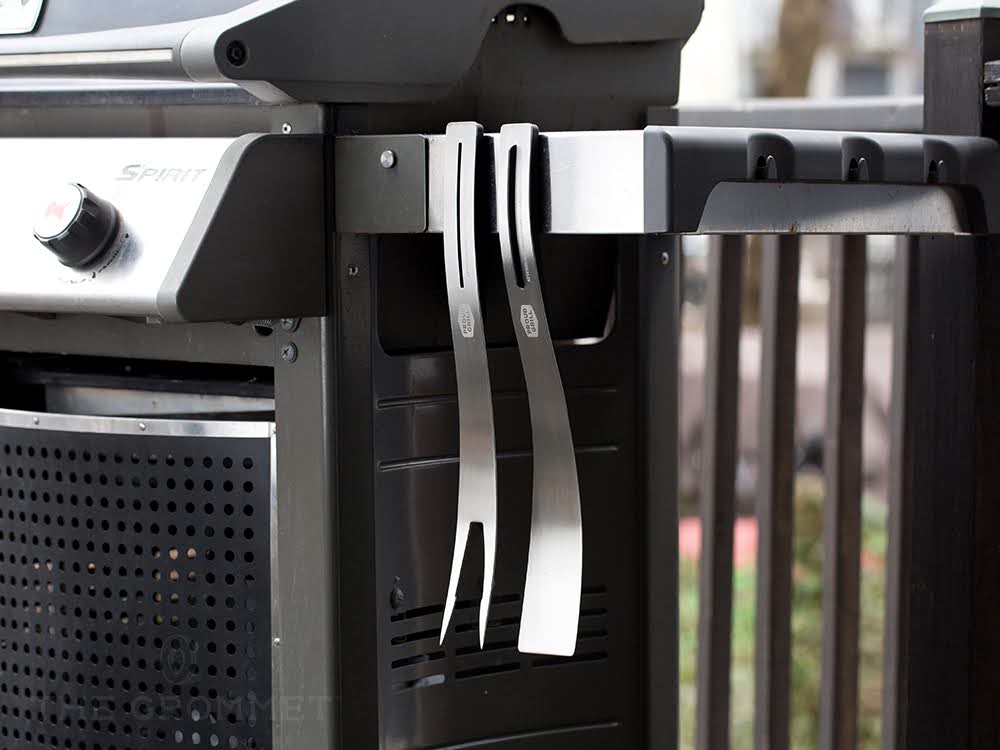 Connect-It Magnetic BBQ Tool Set from Proud Grill Company (https://www.proudgrill.com)
Whether or not the dad in your life a master on the barbecue, chances are he has way too many grill tools taking up space in the drawer that he's not super happy with. With Proud Gill Company's Connect-It Magnetic 2-Piece BBQ Tool Set, he can use the two slim and easy-to-store pieces to make four different tools, allowing him to get rid of others that are redundant or entirely useless. The magnetic handles of the spatula and fork connect to each other, so that it can be used individually as a spatula and fork, or together for tongs and as a server.  The 4-in-1 Connect It BBQ Tool set also features magnets allowing him to hang the versatile utensils from his stainless steel grill, metal smoker or ceramic grill side shelf. Beyond the versatile handle system, the tools also have an elegant design and are made from high-quality stainless steel. The set is an ideal Father's Day gift for the backyard cookout enthusiast, campers or whether these cooking utensils can make grilling great.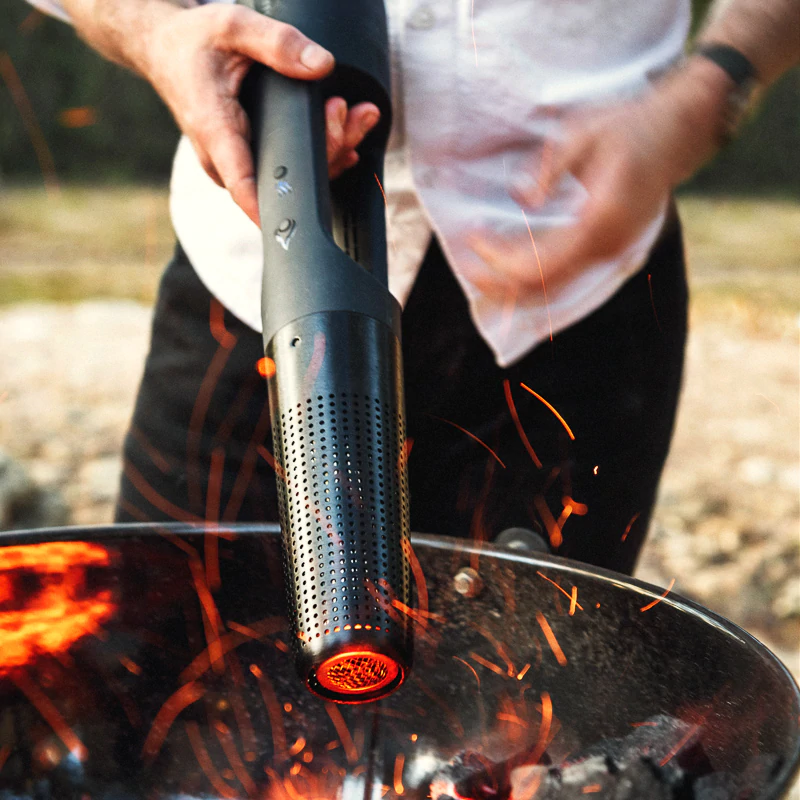 Looft Lighter X Battery Powered Charcoal Starter (https://looft.com)
Is the dad in your life a barbecue purist? Does he love to use charcoal for grilling, either at home or while camping? Does he have a wood-burning fireplace that is difficult to light? If the answer is "yes" to any of these, the Looft Lighter X Battery Powered Charcoal Starter will surely be one of his favorite all-time gifts. Never again will food taste like lighter fluid, since the Looft Lighter X will light the charcoal in seconds using only battery power. This igniting game changer offers a safe and easy method to start his grill or fireplace in 60 seconds with clean, superheated air that reaches temperatures of up to 1,200-degrees Fahrenheit. This is an all-electric lighter without any gas or flame—and it lights all fuels such as charcoal, briquettes and logs. One charge will last for multiple uses.  This invention came to fruition when inventor Richard Looft was grilling, and his chicken came out tasting like the lighter fluid he used. Yuck! This firelighter is reliable, safe, effective and clean–one that would make lighter fluid a distant smelly memory. Customers also benefit from free shipping and a three-year warranty.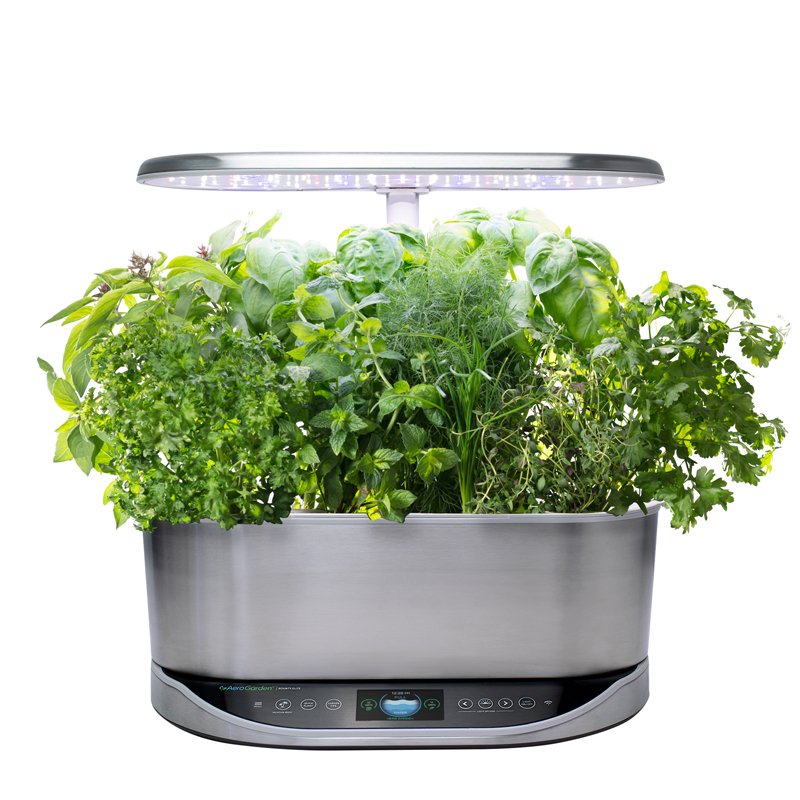 AeroGarden 'Bounty Elite' Hydroponic Garden with Seed Bundle (https://www.aerogarden.com/ellen.html)
Looking for Father's Day gifts that hobbyist dads will love? AeroGarden, a leading kitchen grower with more than 35,000 5-star reviews on Amazon, is a great idea for all the home cooks, grilling and gardening aficionados, and craft cocktail lovers out there. This hydroponic garden grows everything from lettuce greens to fresh herbs to hot peppers year-round. AeroGardens come in many different varieties and sizes for any living space. Rather than running to the grocery store at the last minute for expensive boxes of herbs, Dad can simply clip his greens from the AeroGarden, instead. Along with the convenience, there's the fun and interactive experience of watching nature blossom right before your eyes. The AeroGarden Bounty Elite with Seed Bundle is one fantastic option that can grow up to nine plants to maturity. Or, use it to start up to 50 seedlings for transfer to an outdoor garden, as they'll grow five times faster than if started in soil. The unit's powerful 50-watt LED grow lights offer full-spectrum, optimal lighting and include advanced settings like dimming and sunrise/sunset schedules. The grower box adjusts for up to 24-inches of grow height–enough for any tall veggie seeds–and the simple control panels make it easy to keep those plant babies thriving. Celebrity dads like Ravi Patel and Stephen "tWitch" Boss from The Ellen Show reportedly use and love their indoor garden and sharing the experience with loved ones.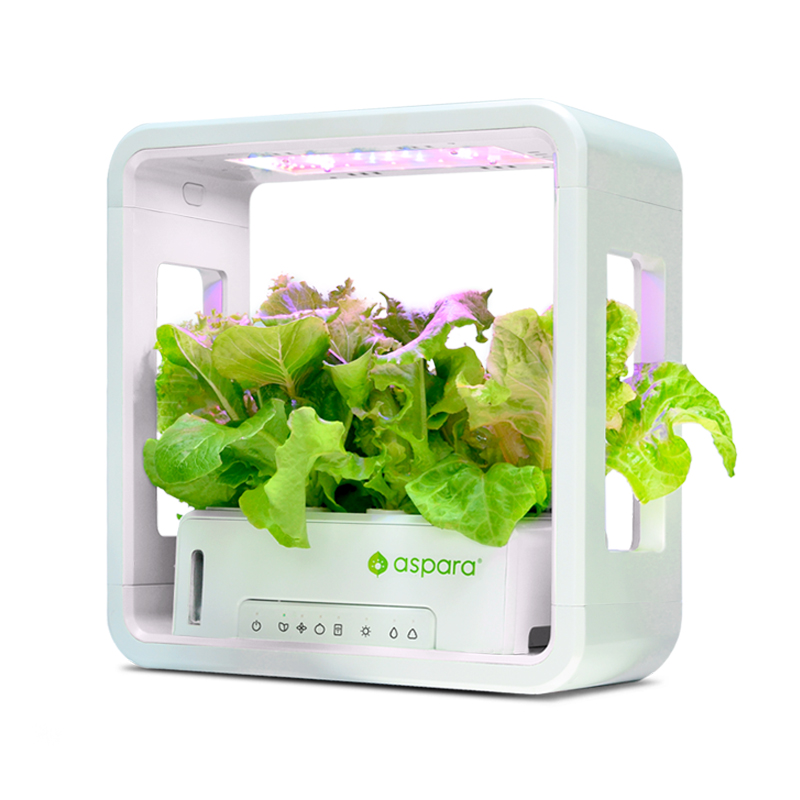 Space-Saving aspara Stylist Lite Hydroponic Smart Grower (https://www.asparagarden.com)
Another great way to give your dad the gift of a tiny indoor hydroponic garden for his office or home—or home office all in one—is with the aspara Sylist Lite Smart Grower. Studies have shown that people are happier, healthier and more productive when surrounded by plants, so the aspara Sylist Lite Smart Grower would be a unique, thoughtful gift that shows dad that you care. This is a compact and stackable small greenhouse features eight grow holes, adjustable LED grow lights, auto-watering and built-in smart sensors that detect nutrients, air temperature and humidity.  He can grow flowers as well as fresh, healthy-to-eat greens, herbs, radishes and much more. The aspara mobile app will allow him to connect his Stylist Lite to the app so he can monitor and control the unit; get planting guidance and tips; and share his new hobby with his friends and family. Pick the seed kit that he would like best and you can all watch the plants grow and thrive in the aspara hydroponic garden. Aspara offers moms, dads, and graduates a gift that embodies sustainability, healthy living, and fun all in one, as well as the opportunity to grow fruits, vegetables, and herbs faster and better, indoors, regardless of expertise or season.  Décor tip: You can also stack and extend these units, which would make a beautiful wall of plants!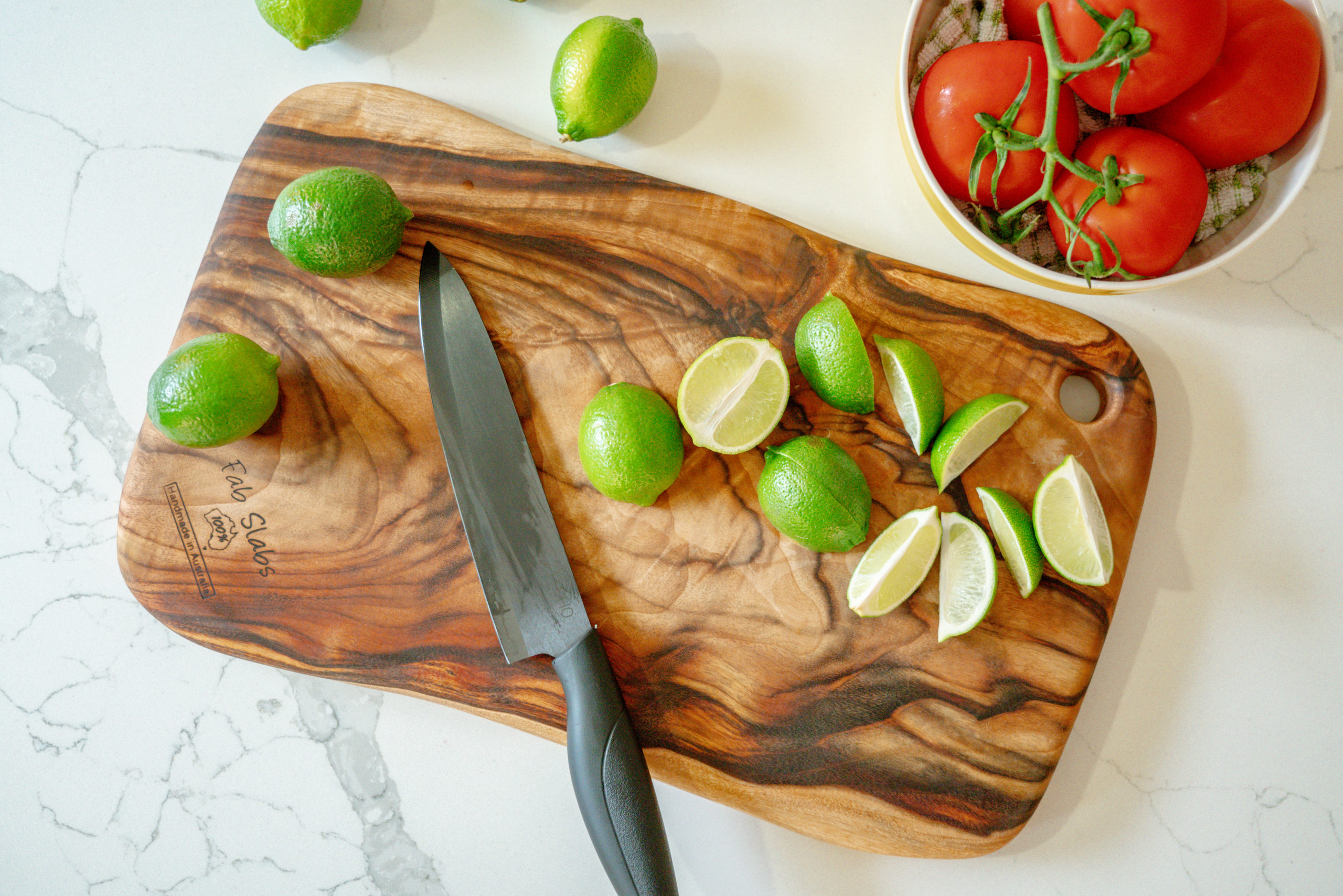 Fab Slabs Laurel Cutting Board from Fab Slabs (https://fabslabsusa.com)
For the dad who loves to be the chef or grill master, this is the perfect gift he'll probably have for a lifetime! The Fab Slabs Laurel Cutting Board is made of one piece of lumber from the Australian Camphor Laurel tree. The best thing about this wood is that it is a durable, environmentally friendly, naturally antibacterial surface. In fact, tests by a NATA-approved laboratory have extensively tested these boards for the four most common bacteria in food-borne illnesses: E. Coli, Salmonella, Staph and Listeria. The tests showed that these bacteria were unable to survive on the board after a short time, and boards used for the past 7-10 years still showed zero bacteria growth! The board is 17.7 inches long, 9-inches wide and 1.18 inches thick, making it the perfect size for assembling a delicious meal or displaying a charcuterie selection. This board also repels water and resists warping due to the natural oils found in the Camphor Laurel tree. Fab Slabs is a family-owned and operated business that hails from the Sunshine Coast of Australia. Their environmentally friendly, permanently antibacterial boards combine utility with beauty for pieces he can enjoy for years to come.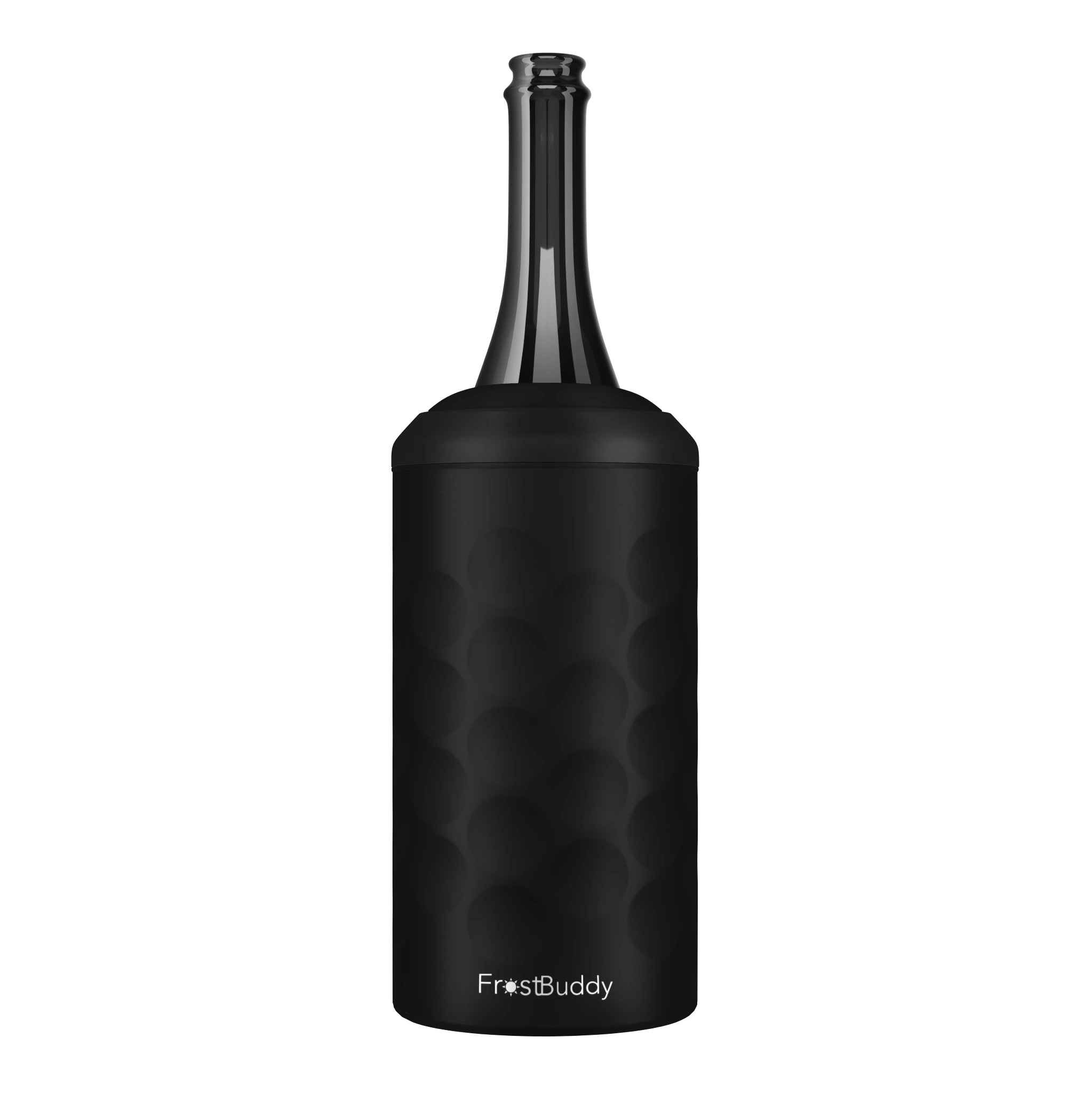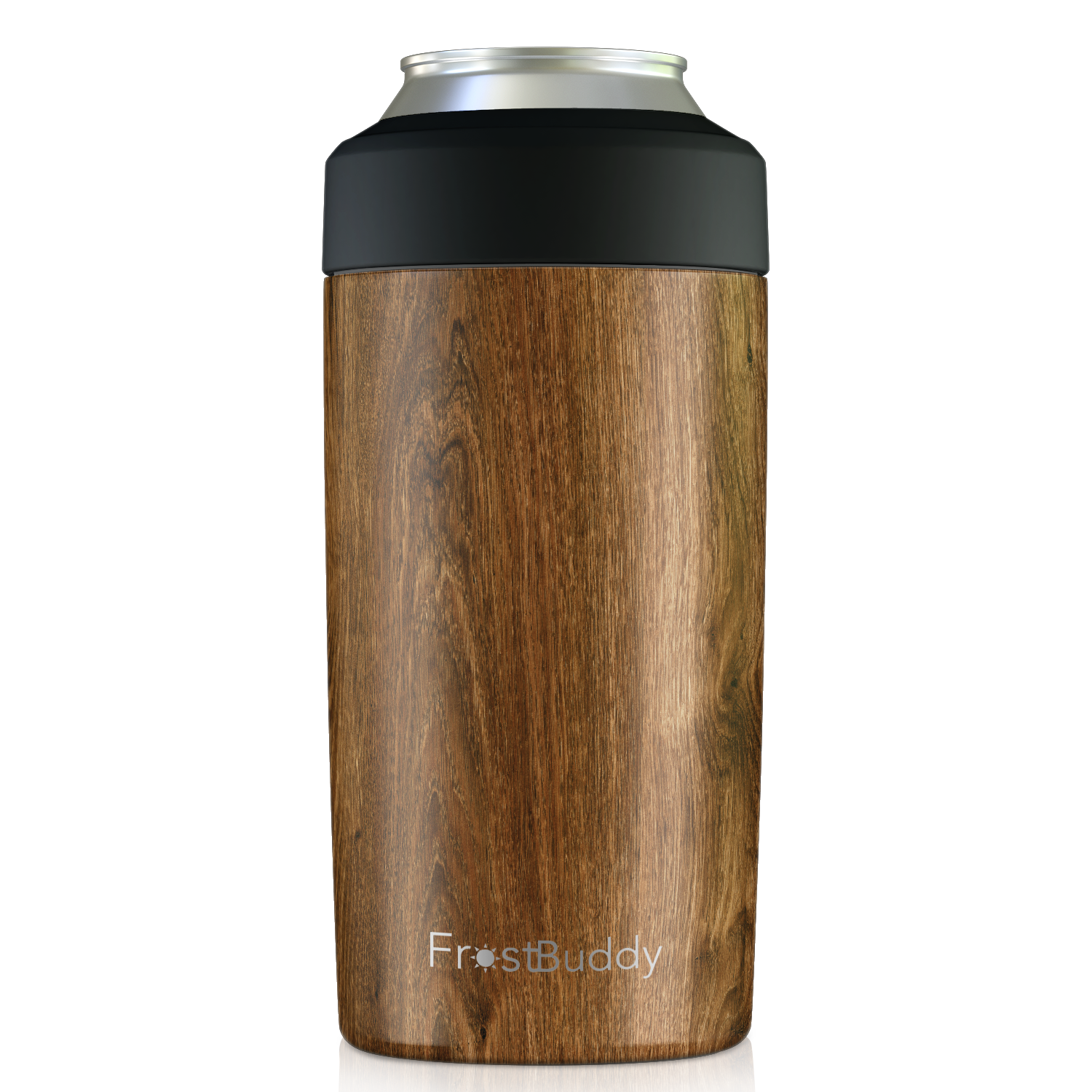 Frost Buddy Portable Beverage Coolers (https://frostbuddy.com)
Your dad will absolutely love either one of these cool Father's Day gifts—no pun intended. First, absolutely zero people like warm wine on a hot day. But, have you ever tried to carry around ice, wine buckets or chillers for your favorite cold wine?  Frost Buddy Universal Wine Buddy is the world's first and only universal cooler to fit full size, 750-milliliter wine bottles, champagne bottles and some liquor bottles without the hassle and mess of melting ice. It keeps the bottle cold, while being handsome enough to keep on the dinner table. Its patented lid and internal design, along with its double wall vacuum sealed stainless steel look, ensures that dad's drinks stay cold. It's perfect for picnics, the pool, sporting events, hunting trips and just hanging out in the back yard. If your dad is more the sporting type, the Sports Buddy would be a great choice for him. This is not your basic sports bottle, since it has a 40-ounce capacity, keeps beverages cold for 24-plus hours, and comes standard with a matching paracord and climbing clip for easy portability. It can also keep his coffee hot for eight hours. There are so many colors and designs available, so you can pick the one that fits your dad's personality the best. This practical gift will be one he can use every day, all year through.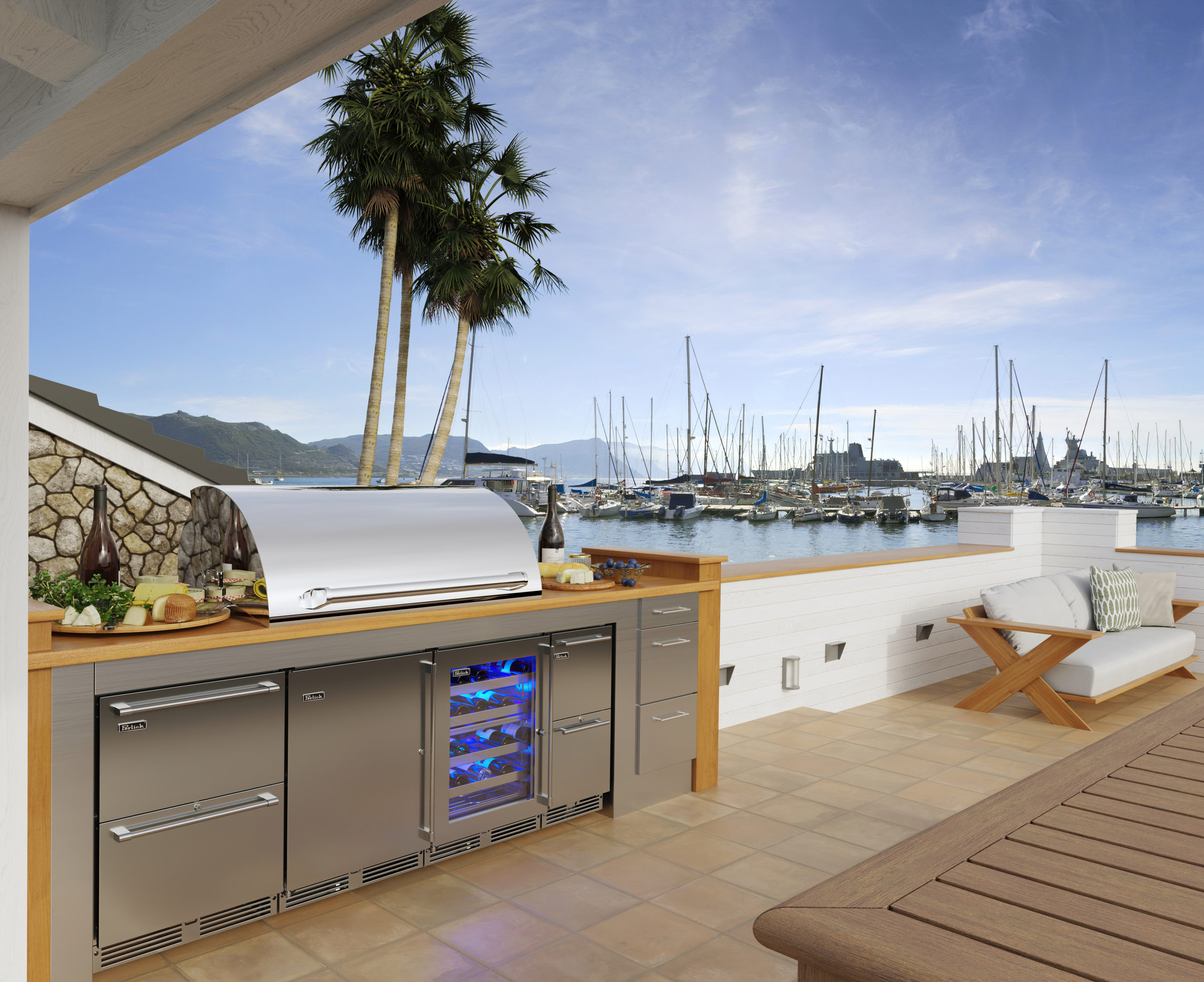 Marine and Coastal Grade Under-Counter Refrigerator from Perlick (https://www.perlick.com/)
For the discerning dad who appreciates quality and beauty, Perlick's new Marine and Coastal Grade Under-Counter Refrigeration line will help him, and the rest of the gang, enjoy the ultimate in refrigeration wherever he finds paradise. Whether he owns a home in coastal conditions, a saltwater pool or a boat on the open water, the harsh effects of high-salt environments can wreak havoc on outdoor appliances and cause premature aging. These stunning Marine and Coastal Grade Under-Counter Refrigerator units are not only beautiful but they are also built to last. This appliance line features Perlick Armor, which is built to endure the harshest of environments while maintaining consistent functionality and a showroom quality finish. Perlick Armor combines a mix of 316 and 304 stainless steel for food safety and easy cleaning, rather than plastics found in some marine-grade products. Units also come equipped with upgraded stainless steel and zinc plated fasteners to prevent rusting, as well as a protective coated refrigeration system for added durability. The new line is inspired by a conversation Perlick had with a long-time customer residing on the Atlantic Coast who needed a solution for rusting outdoor appliances. This line solves that problem in beautiful form.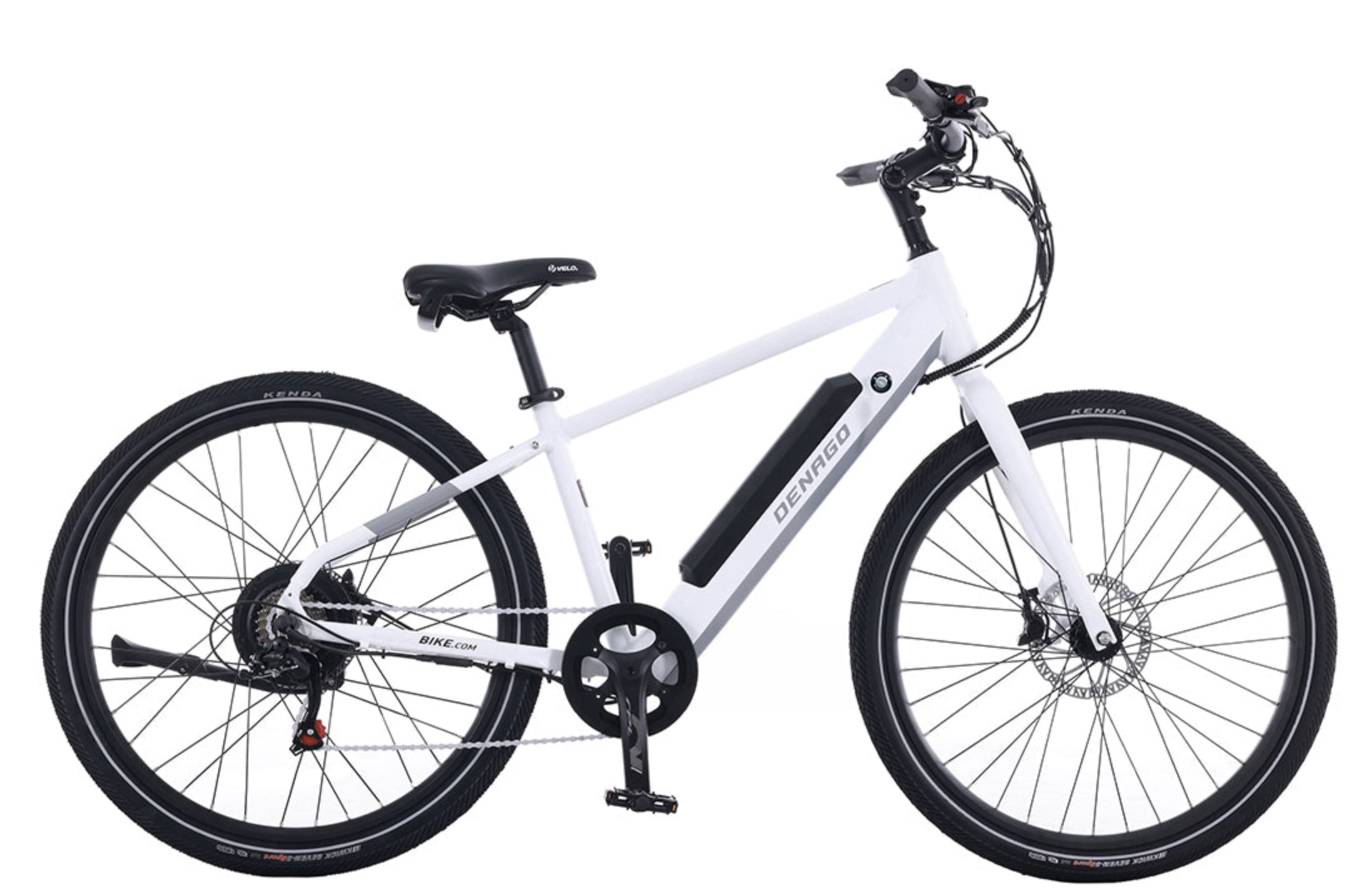 City Model 1 e-Bike from Bike.com (https://bike.com)
E-bikes are skyrocketing in popularity, and it's no wonder. They're fun to ride, good for the environment, convenient for commuting and can help you stay fit. Your dad will surely have a blast with the City Model 1 eBike from Bike.com, which would be an elevated Father's Day gift he'll never forget. Another benefit is that e-Bikes have been proven to be much more cost effective than a car. This particular electric bike has a great aesthetic design, and is rife with fab features. First, it includes five levels of pedal assist—digital controls allow you to choose how much help you want—to cruise at up to 28 MPH, as well as a thumb throttle that can propel you at up to 20 MPH without pedaling! Most riders will experience more than 20 miles of range using the throttle exclusively and 40 miles or more on pedal-assist. There's also a large color display showing your speed, distance, time, battery life and other information, plus a kickstand for easy parking.  It has a speed limiter can be set from 11-28 MPH to help you meet local trail access rules and requirements, or to accommodate riders who simply prefer lower speeds. It additionally includes Kenda puncture-resistant tires, powerful hydraulic disc brakes for safer stopping, and Shimano's 7-speed drivetrain. The e-Bike has a 500-Watt hub motor with plenty of torque to make climbing hills a snap and a high-capacity battery for more range. Plus, there's a 652.8Wh battery with premium LG cells so you can go further between charges. When you're done riding, the battery can be charged using the included 3A fast charger both on and off the e-Bike in just 3-4 hours, which is 50% faster than many competing electric bikes.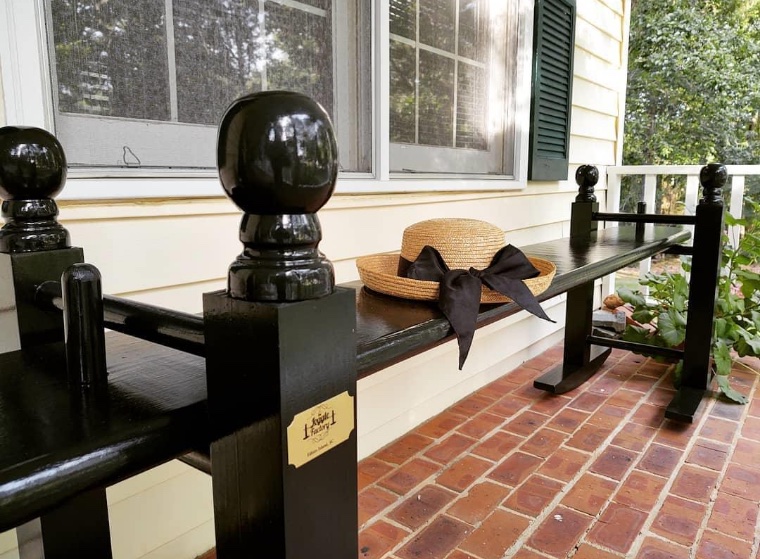 The Joggle Factory 6-Foot Joggling Board Seating (https://thejogglefactory.com)
Is the Dad in your life into unique things, keen to relax or dedicated to having fun family time at home? Then the 6-foot Joggling Board from The Joggle Factory makes for a fabulous Father's Day gift. In the beautiful low country of South Carolina, joggling boards have been a staple on front porches since the 1800's. Think of it as a rocking chair in bench form. The Joggle Factory designs and builds authentic and classically-styled joggling boards to create a traditional look for your own patio, garden, porch or any other living area indoors or out. What makes this Southern staple so popular is its narrow design, which is great for those spaces that can't accommodate a rocking or other standard shaped and sized chair. The board is less than two feet wide, so users can enjoy the relaxing sway that fits nicely in tight quarters. Each joggling board is custom built using sustainable, locally harvested lumber that travels less than 100 miles to the company's shop in Charleston, South Carolina. The Joggle Factory is also dedicated to diversity in its hiring process and they partner with the South Carolina Vocational Rehab program, which helps people who have a hard time finding employment because of a physical or mental disabilities.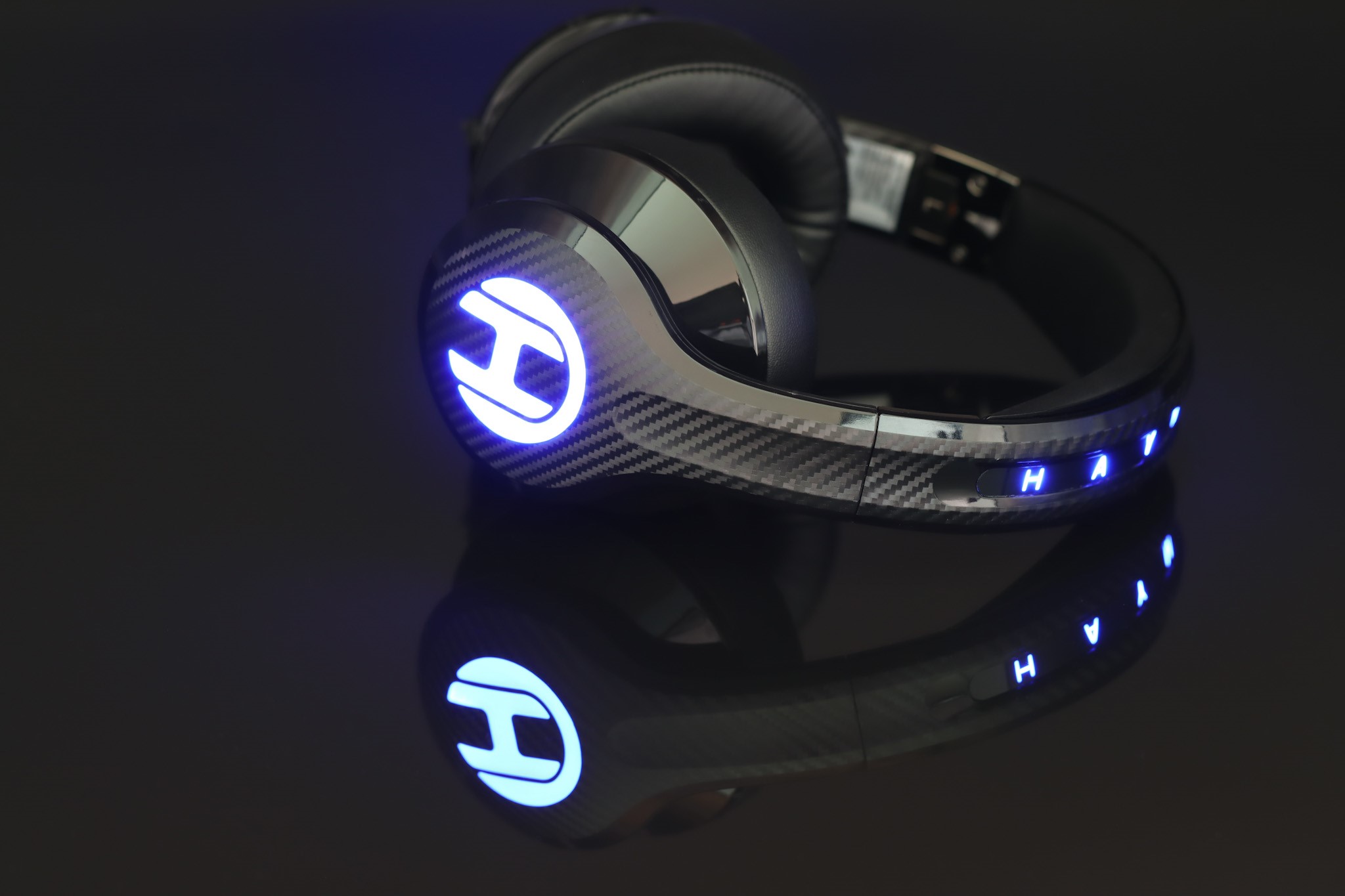 The Haymaker Headset Headphones (http://the-haymaker.com)
What dad wouldn't be thrilled with a new state-of-the-art, high-quality headphone for Father's Day? The Haymaker is an advanced and exciting all-in-one headset headphone designed for audiophiles, gamers, travelers, fitness junkies and more. The Haymaker delivers mind-blowing sound, a customizable LED-lit design, a touch screen interface and active noise-canceling technology in a lightweight, durable frame with a carbon fiber-etched finish. The RGB LED lights give you the ability to customize your experience with countless color and light pattern combinations to fit any style, easily achieved by the swipe of a finger on the touch screen Haymaker logos. Its wireless Bluetooth capability enables users to control audio via smart devices and desktop computers, if desired. The Haymaker comes complete with everything he'll need, including a hardcover carrying case, two complete sets of magnetic interchangeable memory foam speaker pads, a 3.5mm auxiliary cord, universal Micro-USB-C charging cord and a PC gaming controller. Once he's have felt and heard the exceptional quality of Haymaker, he'll be a devotee for life. Plus The Haymaker comes complete with a standard one-year warranty.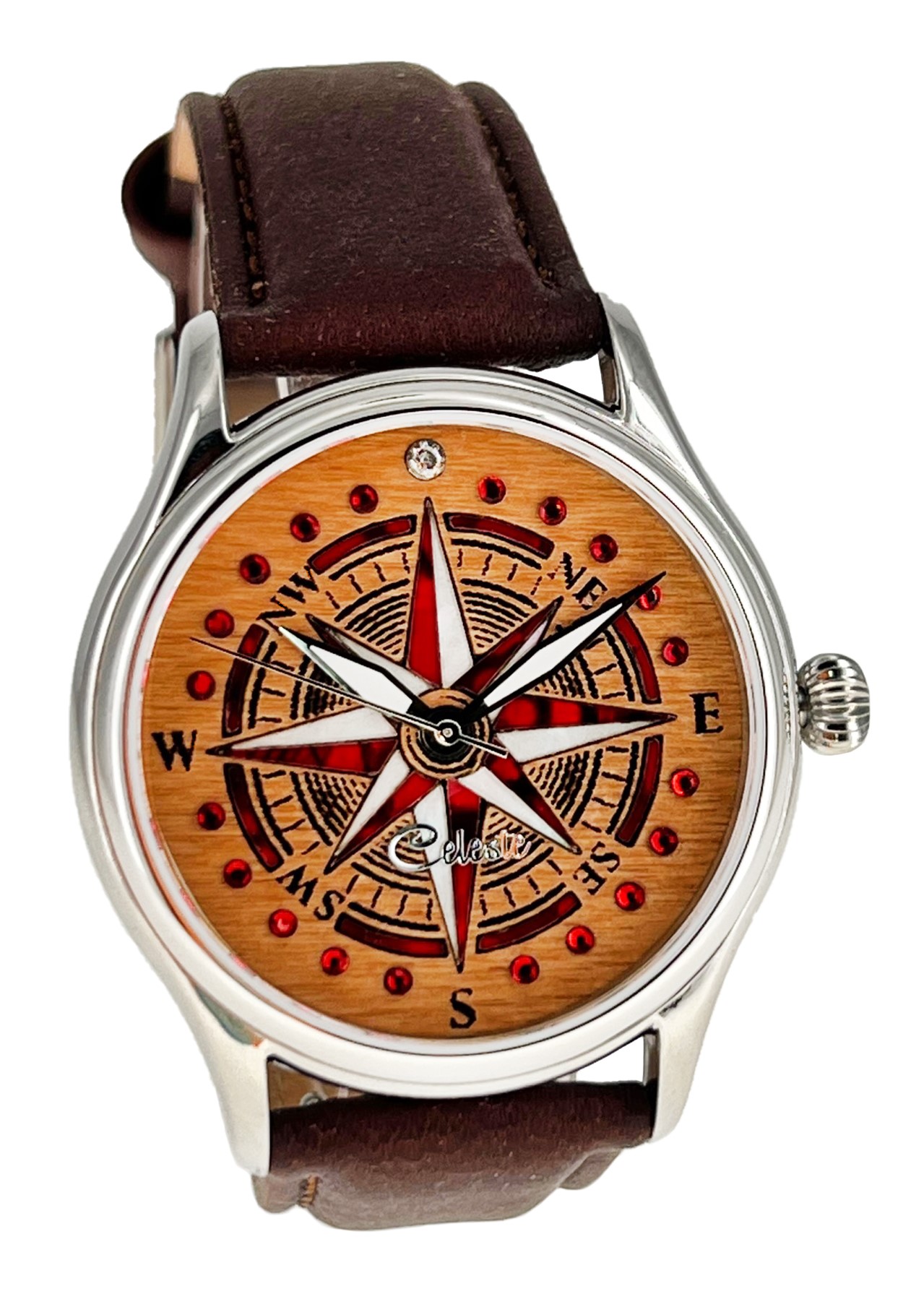 The 'Compass Rose' Watch from Celeste Watch Company (http://www.celestewatch.com/)
For those who like distinctive style items, the Compass Rose Watch design from Celeste Watch Company is a unique, stylish timepiece with a touching origin. It was originally commissioned for a woman who lost her father and wanted a special watch in order to feel connected to him. It has a prominent 2-millimeter cubic zirconia North Star to symbolize him as her guide. Its unique design is stunning, with the background made of alder wood and the four wind directions engraved. The rose petals are made with abalone shells and mother-of-pearl inlay. It also features scratch-resistant sapphire glass for the crystal, polished 316L hypoallergenic stainless steel case and a Swiss Ronda movement. The band is made with a 20-millimeter vegetable-tanned leather, and the battery is designed to last for 18-months. You can also feel confident knowing that the watch is protected with a 2-year warranty. A convenient case comes with the watch for storage and travel. Interestingly, Celeste Watch company is one of only two women-owned and operated watch companies in the United States. The founder, Celeste, comes from a biomedical engineering background and uses her expertise to make amazing, bespoke timepieces like this.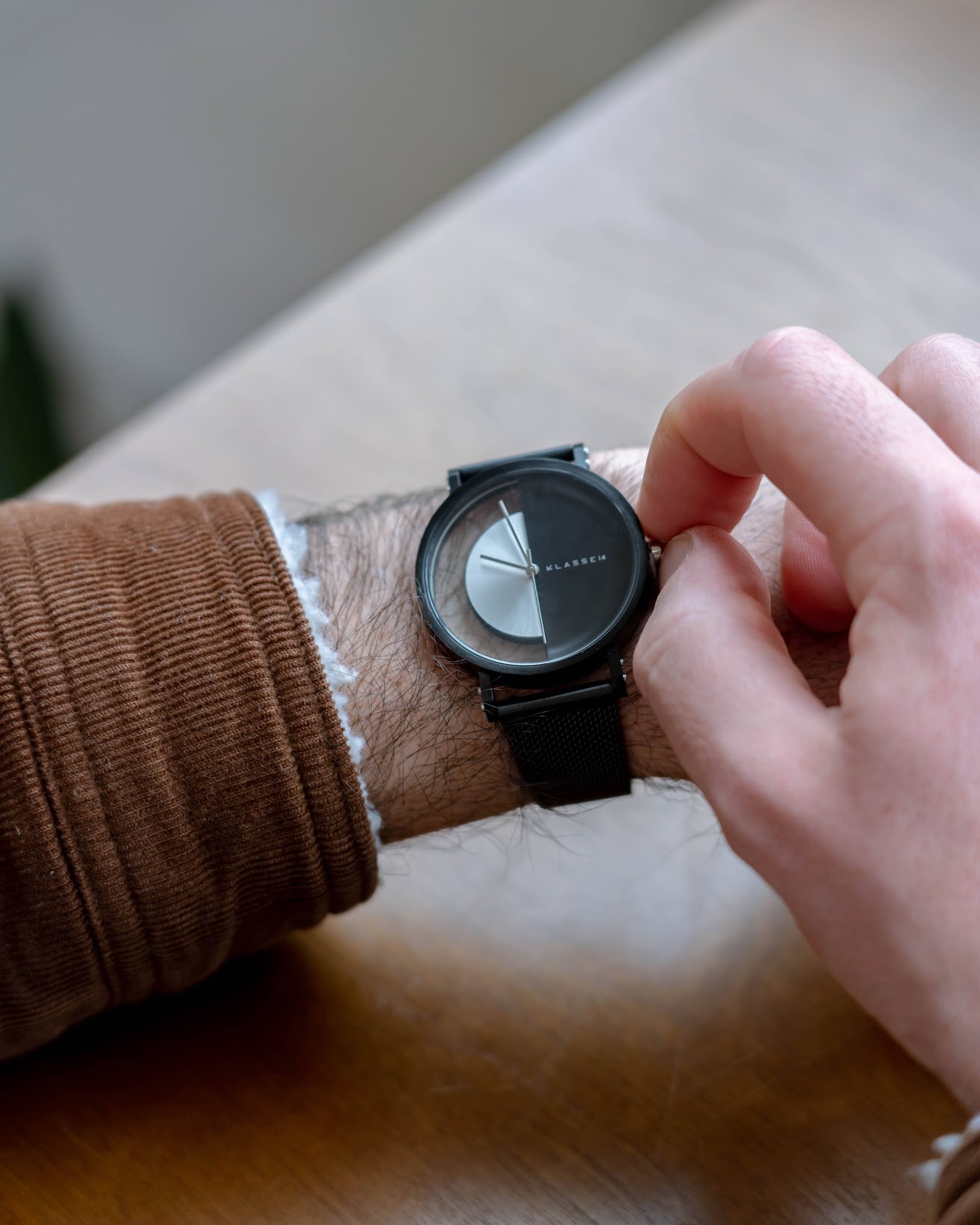 Klasse14 Watches (https://www.klasse14.com)
When deciding what to get dad for Father's Day, look to Klasse14 for gift ideas that are specifically crafted to spark conversation. They offer various watches and accessories that are clearly designed to make a statement. Unique and avant-garde; minimal and simple; and functional and beautiful, this accessory brand thrives on making novel items that'll get him noticed—striving for a singular experience, whether with a never-before-seen shape or color or an unusual or provocative combination. The watches are especially eye-catching and an excellent option as a holiday gift. Klasse14 timepieces boast distinctive design and craftsmanship, pushing limits with an unapologetically groundbreaking spirit. These pieces are handsome enough to wear casually on the weekend, paired with business attire for work or dressed up for a night on the town. Bold, pure or vibrant, however dad would choose his summer palette and whatever he has planned for the summer, Klasse14 watches will have him covered. With their interchangeable straps, mixing and matching a watch has never been easier or more stylish.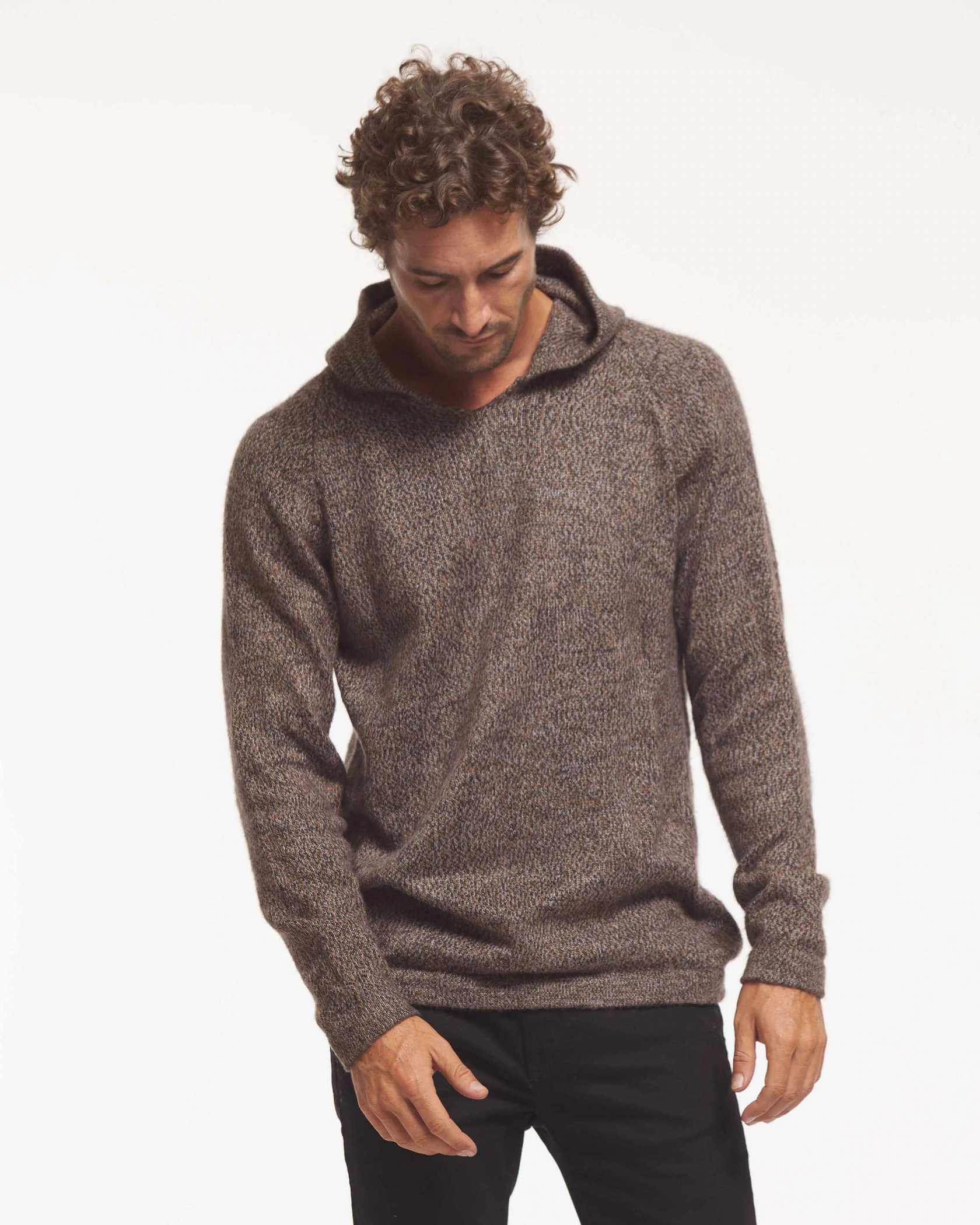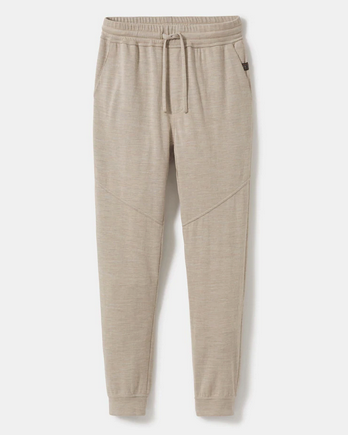 Stylish Alpaca Activewear by Paka (https://www.pakaapparel.com)
Some dads follow trends, while some dads start them. For the fashion-forward dad that wants comfort and style wrapped into functional activewear made from sustainable Alpaca wool, Paka products make for a fab Father's Day gift. I particularly like the company's Vida sweater, which has a three-panel hoodie, slight open V-neck and a unique tricolor knit. It's super sleek, soft, warm and has wicking and antimicrobial properties so dad won't have to wash it as frequently. Alpaca wool is much softer and lighter than sheep wool, with many people comparing its feel of cashmere. Another great option for dad is Paka's Breathe Men's Joggers great for running, yoga, hiking, biking and everything in between. The brand's "Breathe" line is reportedly the first alpaca activewear in history. It's thermoregulating, lightweight and durable, not to mention that all of the Paka garments strive to be as close to carbon neutral as possible. Plus, they're shipped from Peru in biodegradable packages. Paka's best-selling alpaca x bamboo socks are also great. They have triple sole padding (almost like a slipper), compression, ventilation mesh and a top hem that holds the sock in place without cutting off your circulation. They are designed for hiking, relaxing, jumping, climbing, sleeping, sliding, dancing, skating, playing, and everyday living. Paka has a mission to empower the artisans of Peru who are taught weaving skills for free, while also preserving their Incan heritage and culture. Paka also gives scholarships to underprivileged young Peruvians so they can attend University.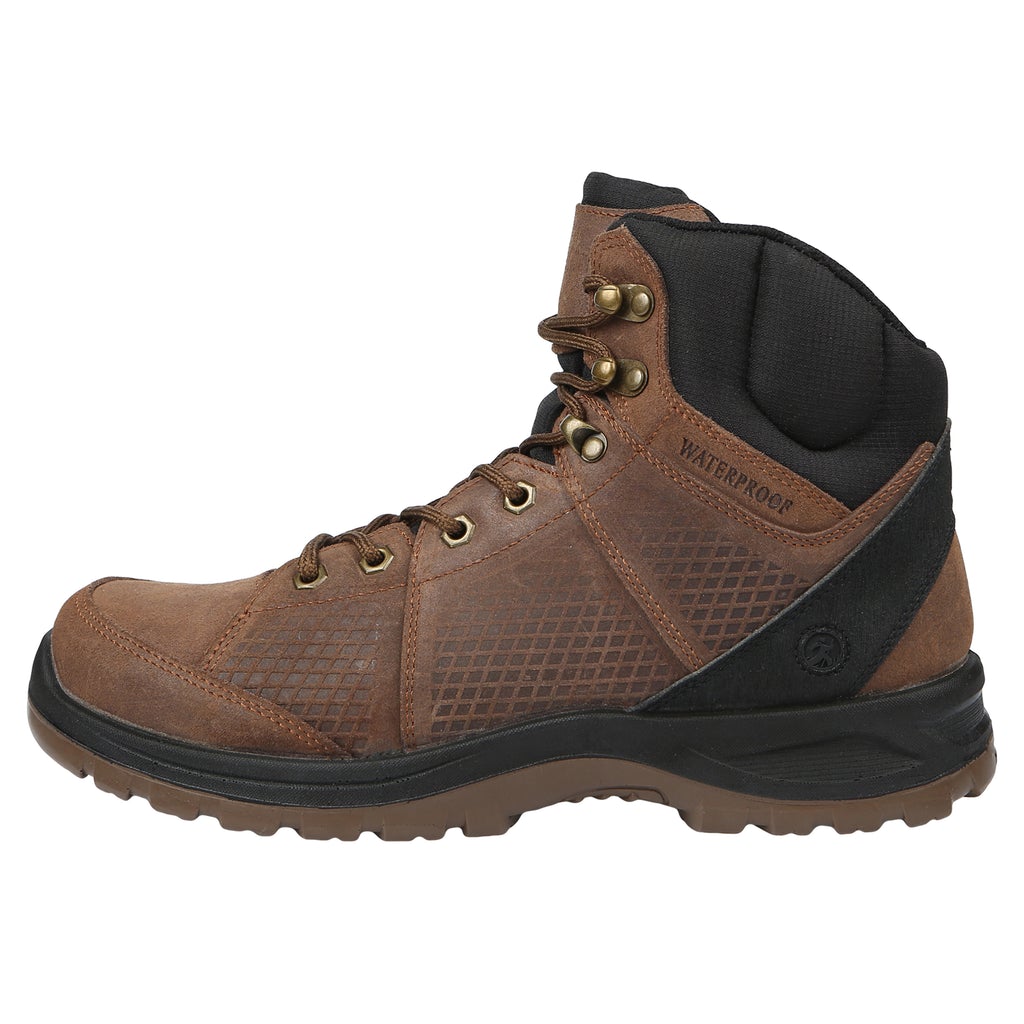 Rockford Mid Waterproof Leather Hiking Boot from Northside USA (https://www.northsideusa.com)
This Father's Day, the Men's Rockford Mid Waterproof Leather Hiking Boot from Northside USA is perfect for all of dad's adventures and his wide variety of tasks! The boot has water-resistant, rugged and distressed leather upper construction via ankle-high embossed leather with a waterproof seam, which makes it a versatile, durable and well-made boot. The Rockford Mid also features a moisture-wicking lining to keep his feet dry and a gusseted tongue to keep out debris. It is designed with a contoured, cushioned insole that will naturally shape and mold to the foot for lasting, all-day comfort. A speed lacing system also allows for easy and secure adjustments for maximum wear and comfort. This boot's durable dual density direct injected PU outsole provides traction and shock absorption, too. Northside USA offers its customers a wide range of other well-constructed and on-trend footwear including cozy slippers, water shoes and sandals, hiking footwear and winter boots. Their products are also affordable, allowing you to buy multiple pairs. They are the perfect gifts to help get outdoors more together, with a wide selection of styles for men that are sure to make them smile this Father's Day.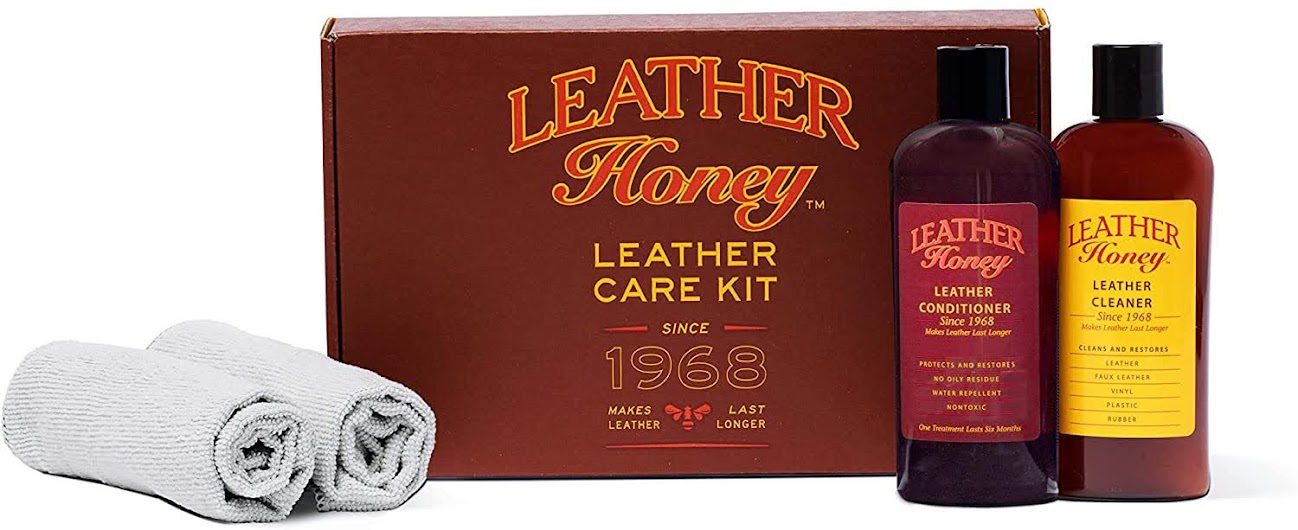 Leather Care Kit by Leather Honey (https://www.leatherhoney.com)
Help dad revive all of his favorite leather items with the Leather Care Kit from Leather Honey. From his car interior, favorite shoes and everything in between, dad will love the way this solution from Leather Honey keeps his material looking brand new. This perfectly giftable kit features a bottle of Leather Conditioner (8-ounce), Leather Cleaner (8-ounce) and two lint-free application cloths. The solutions have been the company's best-selling leather cleaner and conditioner since 1968! Leather Honey restores and protects all types and colors of leather including furniture, cars and fashion. The gentle cleaner quickly and gently removes dirt, oil, tough stains and grime from all leather—even faux/vinyl. The non-toxic, water-repelling formula offers six months of protection. The easy-to-apply formula is natural and non-toxic, made of high-quality ingredients that'll make dad's favorite leather last longer. Also safe for kids and pets, Leather Honey soaks into the pores of the leather, hydrating the individual fibers and providing a water-repellent barrier that prolongs the life of the material. Leather Honey is a family owned, American company that has been in business for over 50 years. The products come with a 100% satisfaction guarantee, so you can purchase with confidence.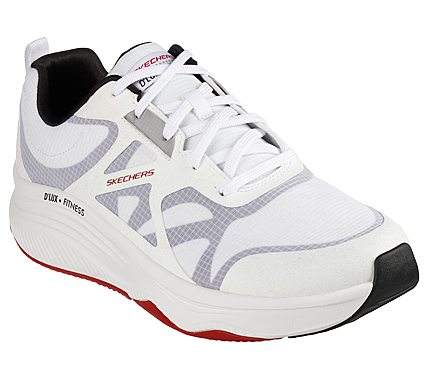 Skechers Relaxed Fit D'Lux Fitness Sneaker (https://www.skechers.com)
Show your Dad that you care about his health, but also his style this Father's Day. This gift provides the utmost comfort, but also looks super stylish as well. Keep his feet cool in well-cushioned comfort during both workouts and walks with Skechers Relaxed Fit D'Lux Fitness Sneaker. This lace-up sneaker features a breathable mono mesh upper with synthetic overlays and a well-cushioned midsole. These Skechers are very light and don't require any time to break in—they are ready to go right out of the box. Additional comfort features include Skechers' Air-Cooled Memory Foam cushioned comfort insole, and a Relaxed Fit for room at the toe and forefoot. Pairs are crafted with 100% vegan materials and are machine washable. These great shoes are available in both white and black, and they are ready to ship to arrive before Father's Day. Skechers is also a global, family-focused brand based in Manhattan Beach, California.  Skechers was founded on the philosophy of putting people first, with human rights as a core value at the heart of how they conduct busienss. Skechers is also a proud partner of The Nature Conservancy worldwide. Through a multi-year monetary commitment, the brand is contributing a minimum of $800,000 to help the organization protect lands and waters.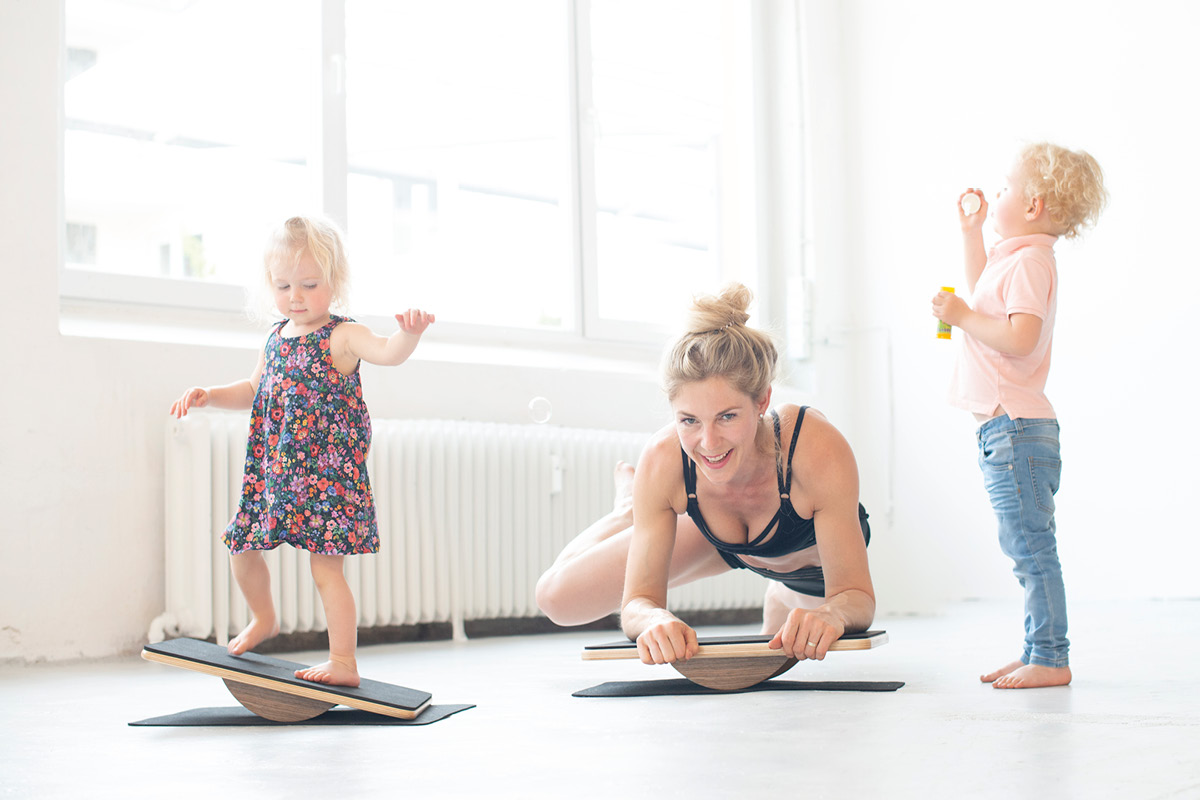 Plankpad Total Body Trainer (https://www.amazon.com)
With Father's Day on fast approach, give the dad that loves to work out the gift that combines fun and fitness: The Plankpad. This is reportedly the world's first app-supported, total body trainer that combines workouts with games. There is an element of fun that is woven into this equipment, making it practical and enjoyable! The playful element is Plankpad's secret weapon to combat one of the biggest enemies of all exercisers: overcoming inner laziness and completing workouts regularly. Instead of just fighting the clock, the app (which is available for both iOS and Android) motivates intense workouts through various games. All dad has to do is place his smartphone or tablet on the board, lean on it in the plank position and control the games through body movement. These challenge playful ambition and will distract him from the strenuous nature of the workouts. Focusing on the games helps make keeping up the forearm support incidental and last significantly longer. The app can also be streamed to any smart television, turning the workout in the living room into an event for the whole family. Imagine the fun of playing and exercising with dad, resulting in great times and a healthy lifestyle to boot.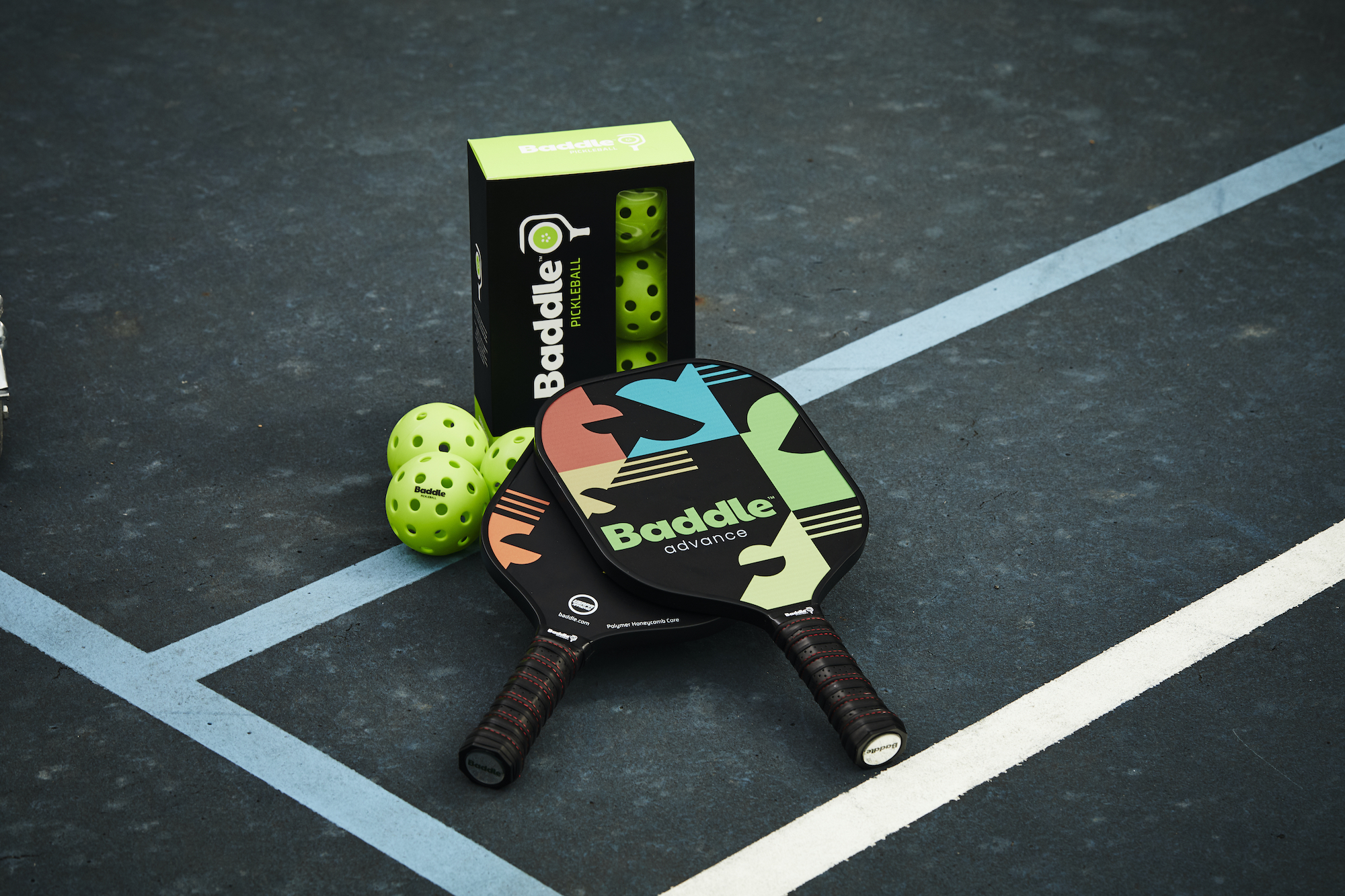 Pickleball Equipment & Apparel from Baddle (https://baddle.com)
For Father's Day, what better gift than one of time, togetherness and laughter? Pickleball is a fun, easy-to-learn activity that is spreading like wildfire around the country. In fact, it is reportedly the fastest-growing sport in America, and is great for all ages! You and your loved one will have hours of enjoyment, and the equipment for playing is simple and readily available. As one great example, the Advance Pickleball Bundle from Baddle.com will give you everything you need to get started, including two paddles and six balls. These paddles are USA Pickleball approved, with the most modern pickleball tech such as a Polymer Honeycomb Core, and with an anti-slip grip. They have a large sweet spot, which makes them forgiving for beginners just learning to play, but very durable and long-lasting to stay with you during your progression to pickleball champion! And, to help dad look great on the court why not add a Baddle Men's Pickleball T-shirt to your Father's Day gift bundle? It features moisture-wicking technology for comfort and dryness both on and off the pickleball court. It's a great pick to wear for running, tennis and other sports or workouts. Choose from multiple colorways: Heather Dark Green, Heather Shadow Grey and Heather White. Do size up because these shirts do tend to run small. The classic athletic crewneck pulls on easily and has flatlock seams and gusseted armholes for a wide range of motion.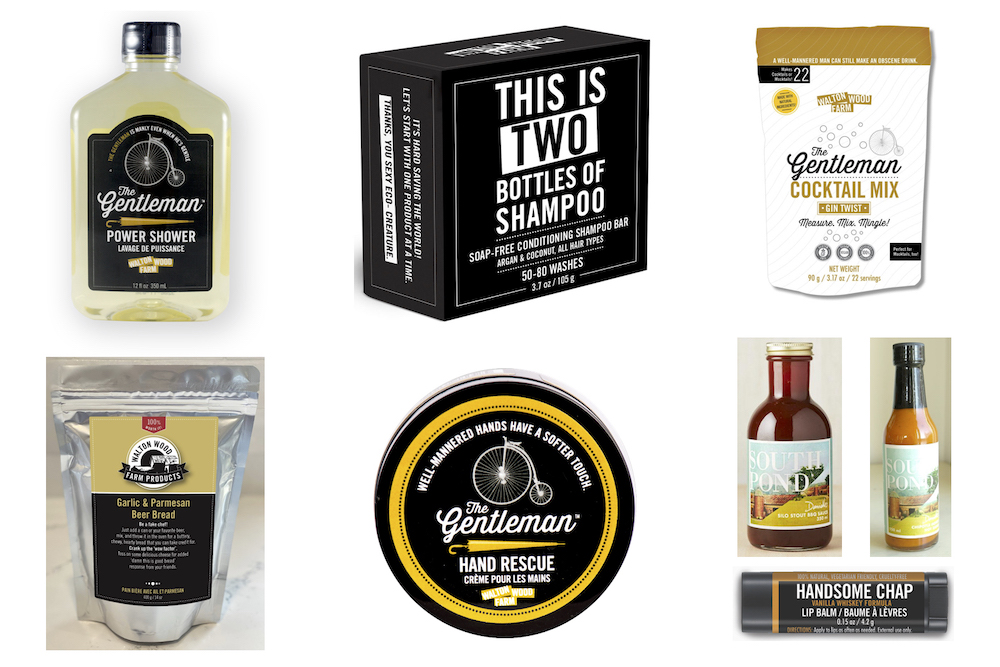 Walton Wood Farm Foodie Bundles & Self-Care for Guys (https://waltonwoodfarm.com)
Show the dad in your life how important he is to you by giving him consciously crafted products by Walton Wood Farm. For one, they offer The Tasteful Gent Bundle boasting a curated collection of foodie products and personal care essentials he's sure to love. This gift set features South Pond's Silo Stout BBQ Sauce and Chipotle Hot Sauce, as well as Walton Wood Farm's Cocktails for 22 and Garlic & Parmesan Beer Bread Mix. The bundle also features self-care items: Walton Wood Farm's The Gentleman Power Shower citrus and mahogany scented body wash, The Gentleman Hand Rescue, Handsome Chap Lip Balm (vanilla whisky scented), and a This is Two Bottles of Shampoo Bar (made with Argan & Coconut Oils that leave hair soft, silky + smooth). If you are looking for just one or two products versus a bundle, consider their Waterless Power Shower to keep him smelling and feeling fresh and clean no matter where he is. This is a convenient and effective body cleanse he can take on-the-go. Perfect for road trips, camping trips and more, it is made with Aloe (which helps moisturize while cleansing the skin) and features a fresh, light bergamot scent to set things right again. The Redneck Exfoliating Soap is another solid choice to help him clean up after a long day of hiking and exploring the great outdoors. This giant 8-ounce bar of exfoliating soap is made with black Jojoba beads and Shea Butter and features a wonderful bourbon and oak scent. Every Walton Wood Farm personal care product is vegan, cruelty-free, gluten-free, and free of parabens, SLS, and dyes.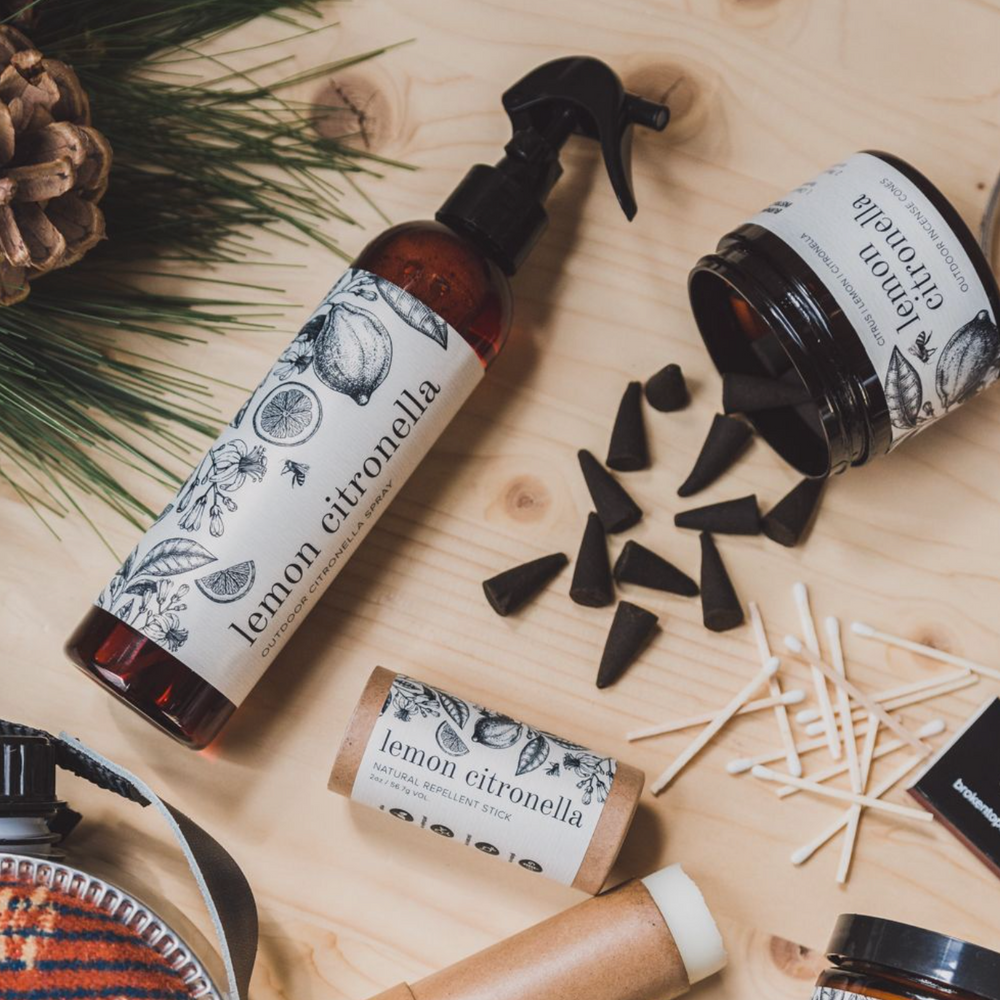 Broken Top Brands Car Fresheners and Botanical Lemon Citronella Line (https://www.brokentopcandleco.com)
Broken Top Brand's flagship Botanical artwork adorns their new line of Lemon Citronella products featuring a fresh, summer scent. Perfect for keeping bugs at bay while dad is lounging, playing or watching sports, picnicking or otherwise outdoors. With notes of citrus, lemon and citronella, Broken Top's Lemon Citronella line is available in four products: 9-ounce Soy Candle, 8-ounce Outdoor Spray, 2-ounce Natural Repellent Stick and Outdoor Incense Cones. The company's amazing smelling Botanical Car Fresheners are ready to hit the road with dad keeping his car or truck extra fresh. Great for hanging on the rear-view mirror and in other small spaces, these fresheners are now available in Broken Top's best-selling fragrances: Sea Salt Surf, Saguaro Cactus and Coconut Sandalwood. Heck, get him a few more to hang in his closet, the garage or anywhere that would benefit from a fragrance boost.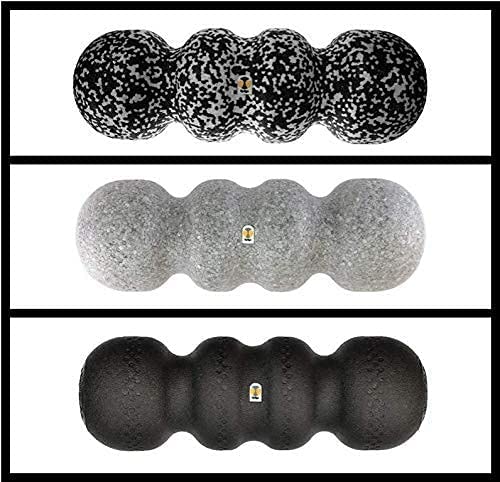 Foam Roller Trio from Rollga (https://rollga.com/)
For the dad who puts his health and physical well-being high on his priority list, here's a great way to help him alleviate bodily aches and pains and even improve recovery and performance. The Rollga Foam Roller Trio  is a handy gift set that includes a soft, standard and hard foam roller. Rollga is, in fact, the first to market patented foam rollers for neck and back pain with a patented groove design. The various levels of hardness will allow him to choose which would be best for each muscle group. These cross-directional foam rollers are designed to stabilize the hips, align the back and increase the range of motion. With specially designed grooves, the roller targets muscle, while bones, tendons and fascia drop into the grooves for increased targeted pressure. The result is a satisfying deep tissue massage. Rollga's patented design and contoured shape fit the body and target trigger points that are difficult to reach with an ordinary foam roller. Rollga's line of high-quality foam rollers, which are offered in a variety of sizes for differing uses, brings regeneration to damaged tissue by influencing the circulation of oxygen-rich blood flow. They offer a more efficient, effective and comfortable foam roller design to restore every muscle.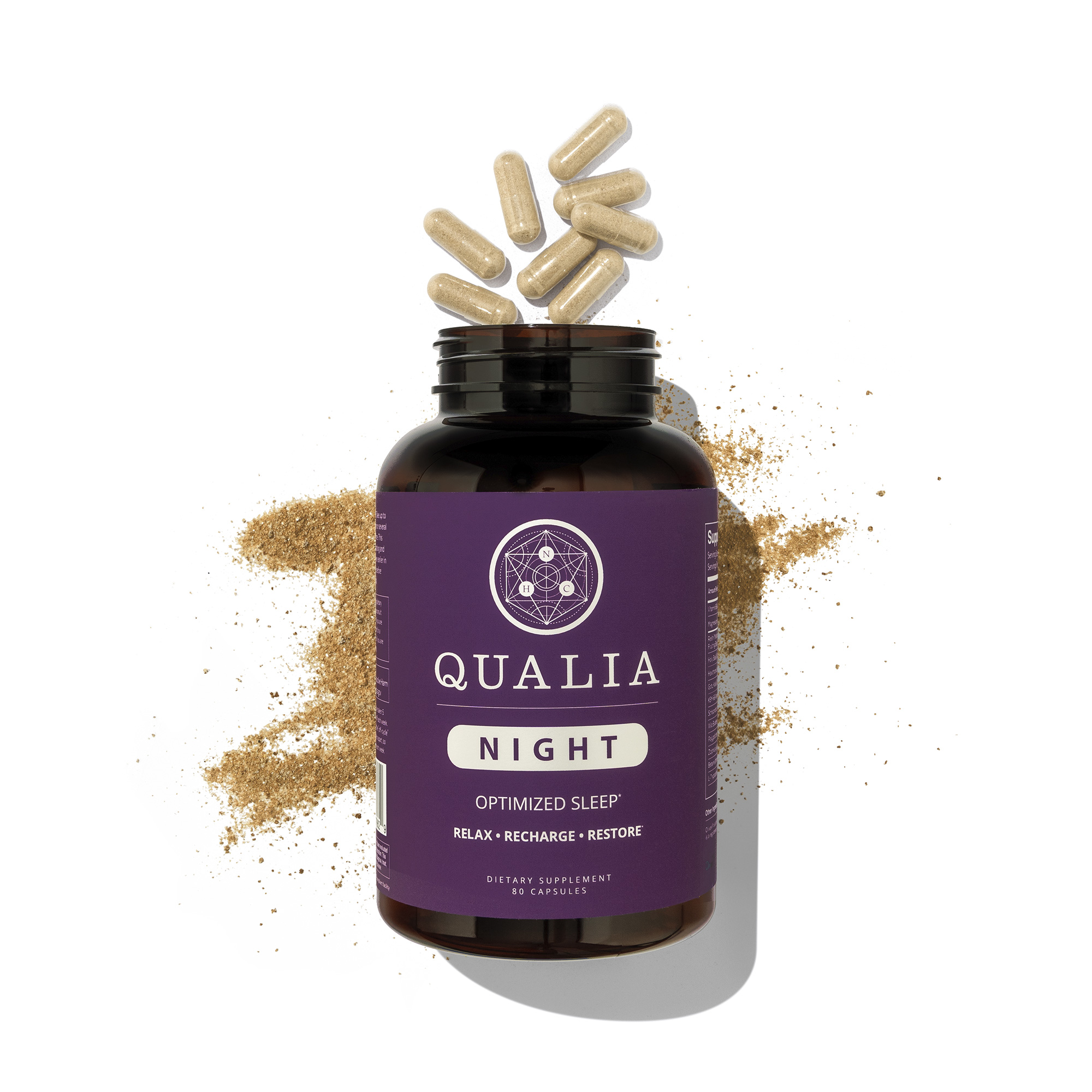 Qualia Night Sleep Supplement by Neurohacker Collective (www.neurohacker.com)
Perhaps nothing is more important to your dad's overall well-being than a good night's sleep. So, consider giving him a Father's Day gift that doesn't just help him sleep better, but one that also optimizes his body's healing power. Qualia Night is a product that enhances sleep performance and empowers the body's ability to recharge, restore and regenerate. Studies prove that optimized sleep leads to sharper focus and greater mental clarity. It also promotes healthy immune function and better aging. This unique, patent-pending formula works by enhancing stem cell production and BDNF, promoting GABA, balancing cortisol levels and supporting gut microbiome health. It accomplishes all of this through a high purity blend of polyphenols, neuro-lipids, herbal adaptogens, therapeutic mushrooms, nootropics, Ayurvedic rasayanas, superfoods and cellular antioxidants. It addresses causes of poor sleep, including supporting natural melatonin production, circadian rhythms and homeostatic sleep drive. This product is made by Neurohacker Collective, a company focused on making groundbreaking products for health and well-being through complex system science. Their products support the body's ability to self-regulate, rather than overriding regulatory systems with chemicals designed to move a biomarker in a particular direction.

Custom Paint-By-Number Pet Portrait kit from Apple Pie Painting (https://applepiepainting.com)
If the dad in your life has a special four-legged buddy, then Apple Pie Painting's Pet Portrait Kit would be a thoughtful and fun gift for Father's Day—or any gifting occasion. Whether he's a skilled artist or just a beginner, he'll love how easy it is to capture his favorite memories on canvas. Just send in a photo of his special pal and the company will use it to custom create a paint-by-number canvas outline of it, shipped back crafting-ready with all the supplies needed to paint the portrait. He'll surely love the high quality of the canvas, and that it is hand-drawn by a professional in the international artist community. The painting is super simple and takes just a few easy steps to get started: choose the canvas size, select the number of kits and upload your pet photo. Then, in just 14 to 17 days, he'll receive a kit including a hand-sketched custom canvas, choice of paint colors, 3 high-quality brushes, 4″x 6″ photo color key, 10 well paint palette and easy-to-follow instructions. Company founder, April Kramer, reportedly recognized the need for people to enjoy a fun pastime during lockdown, so she packed up materials from her paint and sip business and began sending them to individuals at home. Now, your dad will love having his own unique piece of custom art for his home or office—one that he personally painted.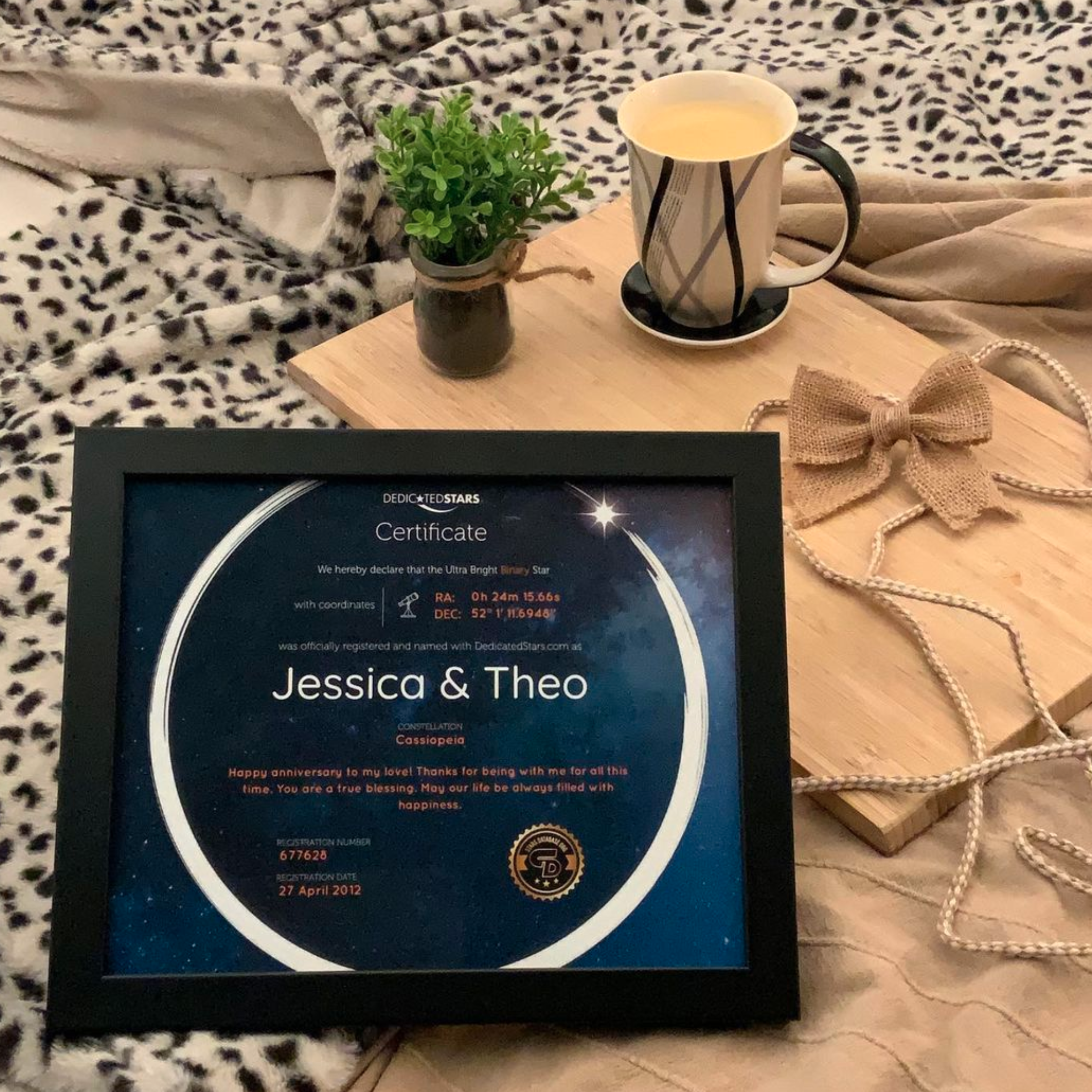 Name a Star with Dedicated Stars (https://dedicatedstars.com)
What better way to show your love than naming a star after someone? Giving someone their own unique star is a special way to commemorate and celebrate loved ones, friends and even pets. Among others, it's a popular gift for Father's Day, birthdays, anniversaries and graduations.  Dedicated Stars offers you the option to name a star of your choice after the most special people in your life. It's an extraordinary way to make your loved one feel cherished. You can select between Classic, Zodiac and Binary star packages. The Classic package will let you name a rare and bright star, while the Zodiac gives you the option to select a star from any of the 12 Zodiac constellations, which is the most popular choice of all. Finally, particularly perfect for Father's Day, the Binary package is the absolute gift for couples. Binary Stars shimmer and are composed of two stars that orbit their common center. As part of your purchase, you get access to a planetarium platform, universe infographics and beautiful wallpapers for your computer. After selecting a package, you can custom name your star and receive a personalized certificate via email within minutes. Customize your certificate design among six beautiful options to commemorate your gift. If you wish, you can even add a personal message that will appear on the certificate. In addition, you can receive or send a high-quality printed version, with the option to have it framed. Dedicated Stars is a website that names stars after people (or anything you like)—a gift that really does last forever! Their journey started a while ago, in fact, possibly even several decades ago, when astronomers stopped naming stars and instead assigned each with a catalogue I.D. number. The Dedicated Stars team decided to start naming stars again and make them into exceptional gifts, registered on the star database forever.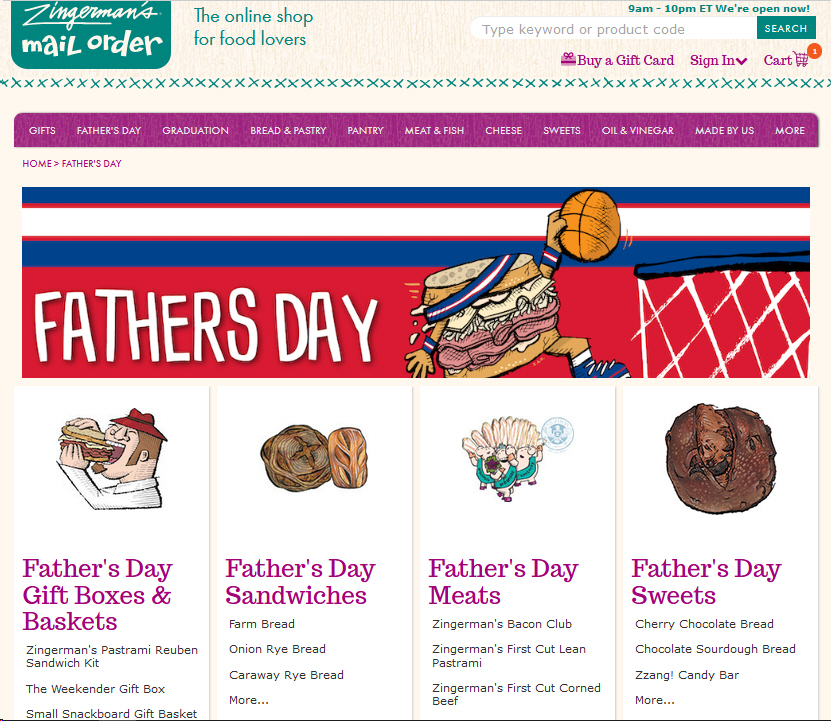 Foodie Delights from Zingerman's Deli (https://www.zingermans.com/)
Zingerman's Deli offers a number of great Father's Day gifts for the foodie dads out there. The company's Georgia Reuben Turkey Sandwich Kit is one of my own personal favorite options. In the early days of Zingerman's Deli, co-founder Ari Weinzweig created the turkey Reuben and named it the "Georgia Reuben." It takes all of the classic ingredients of Zingerman's classic Reuben—the Jewish rye bread, sauerkraut and Emmentaler Swiss cheese—but replaces the corned beef with delectable oven-roasted turkey. The turkey comes from Ferndale Market, a third-generation farm in Cannon Falls, Minnesota, where the birds freely roam on 20 acres of pesticide- and fertilizer-free pasture each summer. The kit includes Jewish rye bread, sliced turkey, sliced Emmentaler Swiss cheese, Zingerman's potato chips, coleslaw, sauerkraut, Russian dressing, garlicky pickles and Magic Brownie Bites for a sweet finish. It requires some assembly, but that is part of the fun. Instructions are included with the kit. Another great gift for dad is Zingerman's Charcuterie and Cheese Gift Box that includes Red Bear Provisions Old Kiev Salami, French cornichon pickles, L'amuse Pril Young Gouda, Zingerman's Nor'easter Cabot Cheddar, Moroccan olives, a loaf of Zingerman's Sourdough Bread, Tempesta's 'Nduja Spicy Cured Meat Spread, Zingerman's Virginia Peanuts, and Rustic Bakery Olive Oil and Sea Salt Flatbreads. It serves ten for snacks and lasts for weeks when refrigerated.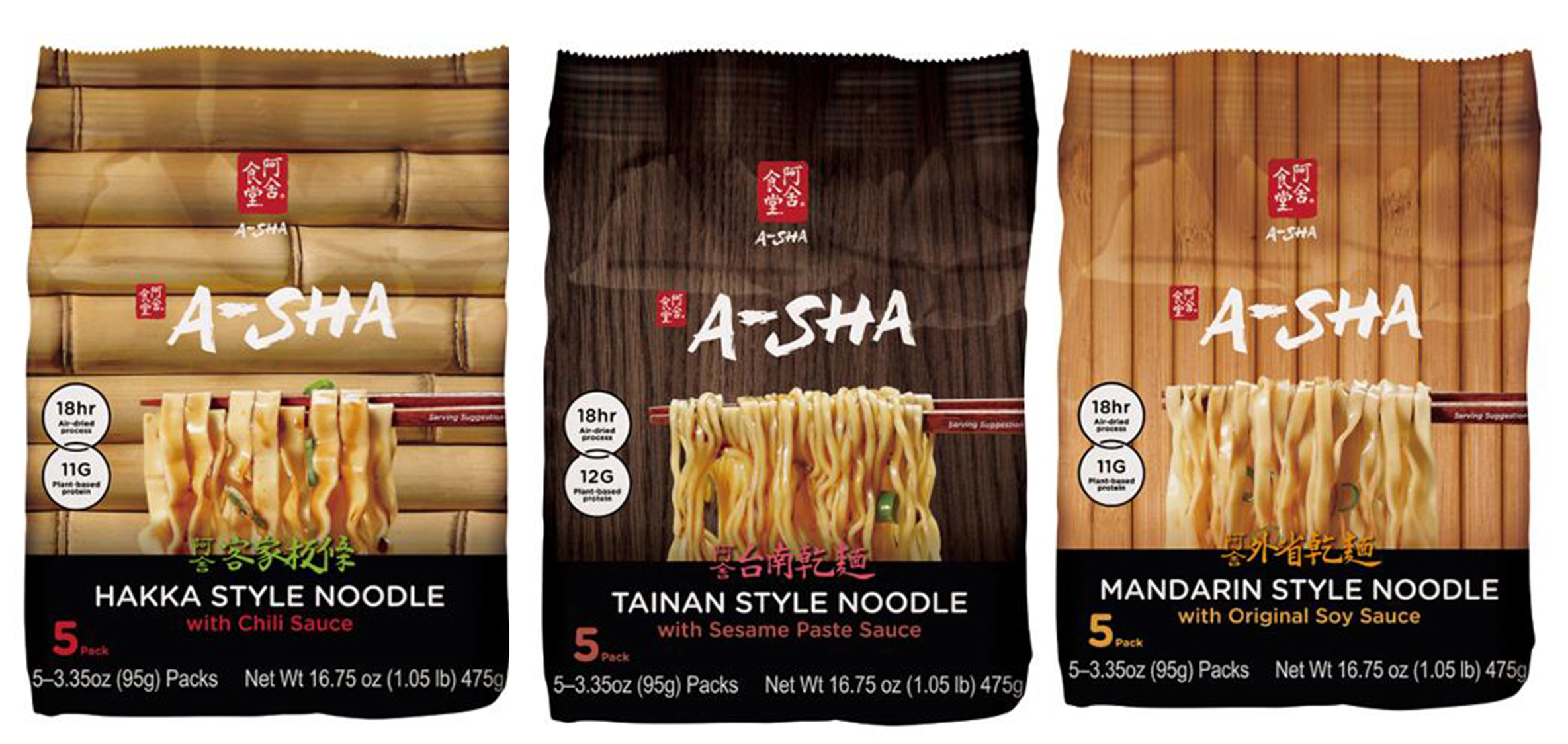 A-Sha Noodles Best Sellers Bundle (https://ashadrynoodle.com/)
Here's another great way to help dad save time in the kitchen with a savory delight, courtesy of the Best Sellers Bundle from A-Sha Noodles. This is the cult-favorite noodle brand known for its patented, 100-year-old legacy noodle recipe from Tainan, Taiwan. The popular noodles are distinctly air-dried, never fried or frozen, and made with simple, wholesome ingredients. There are zero artificial flavors and each pack boasts 10 grams of plant-based protein to deliver a healthier, nutritious alternative to conventional fried instant noodles. These are most certainly in a different league than the Ramen dad made in his college dorm room! The popular Best Sellers Bundle offers A-Sha's three most popular noodle and flavor combinations, including packs of Tainan noodles with Sesame sauce, Mandarin noodles with Original sauce and Hakka noodles with Chili sauce. All A-Sha noodles are simply made with wheat, salt and water and receive a unique 18-hour air-drying technique. The noodles cook in five minutes or less and each bowl can be easily topped with just about any ingredient, such as fried or poached eggs, fresh scallions, chili crisp and whatever else you desire. In addition to being available online, A-Sha Noodles are widely offered in national retailers like Amazon, Walmart, Costco Target and H-Mart.

~~~
Forbes Business Council, Newsweek Expert Forum and Rolling Stone Culture Council Member Merilee Kern, MBA is an internationally-regarded brand strategist and analyst who reports on cultural shifts and trends as well as noteworthy industry change makers, movers, shakers and innovators across all categories, both B2C and B2B. This includes field experts and thought leaders, brands, products, services, destinations and events. Merilee is Founder, Executive Editor and Producer of "The Luxe List" as well as Host of the  "Savvy Living" lifestyle TV show that airs in New York, Los Angeles, San Francisco, Miami, Atlanta and other major markets on CBS, FOX and other top networks; as well as the "Savvy Ventures" business TV show that airs nationally on FOX Business TV and Bloomberg TV. As a prolific lifestyle, travel, dining and leisure industry voice of authority and tastemaker, Merilee keeps her finger on the pulse of the marketplace in search of new and innovative must-haves and exemplary experiences at all price points, from the affordable to the extreme. Her work reaches multi-millions worldwide via broadcast TV (her own shows and copious others on which she appears) as well as a myriad of print and online publications. Connect with her at www.TheLuxeList.com and www.SavvyLiving.tv / Instagram www.Instagram.com/LuxeListReports / Twitter www.Twitter.com/LuxeListReports / Facebook www.Facebook.com/LuxeListReports / LinkedIN www.LinkedIn.com/in/MerileeKern.
***Some or all of the accommodations(s), experience(s), item(s) and/or service(s) detailed above may have been provided or arranged at no cost to accommodate if this is review editorial, but all opinions expressed are entirely those of Merilee Kern and have not been influenced in any way.***
Source: https://nrf.com/media-center/press-releases/fathers-day-spending-hit-201-billion-according-nrf