Britt's Best Bites of the Week
For true foodies, there is nothing more exciting than trying out a new restaurant, especially in a
beautiful, fun location! Visiting a new restaurant gives you the opportunity to visit a new place that you
have not been before as well as be introduced to some unique dishes and drinks that you have never
tried. And, what is better than trying out a new place that you know is "foodie accredited?" This week,
we're featuring some of "Britt's Best Bites'" favorite coastal locations that are an absolute must to add
to your restaurant bucket list. If you are in any of the following areas, be sure to give these restaurants a
try (you won't regret it!):
South Shore: Tavern on the Wharf in Plymouth, MA
Tavern on the Wharf is located on Plymouth Harbor and is open every day for both lunch and dinner. Every seat in the establishment overlooks a gorgeous waterfront view! Tavern on the Wharf is not only a great place to grab a meal and drink at, but they also can accommodate many types of functions with a 230-seat dining room and 125-seat outdoor patio.
Cape Cod & Islands: The Beacon Room in Orleans, MA
The Beacon Room is both casual and elegant in what was once a small cottage! They serve all of your favorite classic dishes as well as creative cuisine and are open seven days a week, year-round. While you're at Beacon Room, be sure to also check out their wide selection of wines by the glass and bottle!
South Coast: Barrett's Alehouse Waterfront in Fall River, MA
Barrett's is known for offering the true taste of New England that everyone knows and loves. While enjoying beautiful views of the water, you can sit back and watch a big game with friends, celebrate a family birthday party or head to Barrett's for a dinner date night!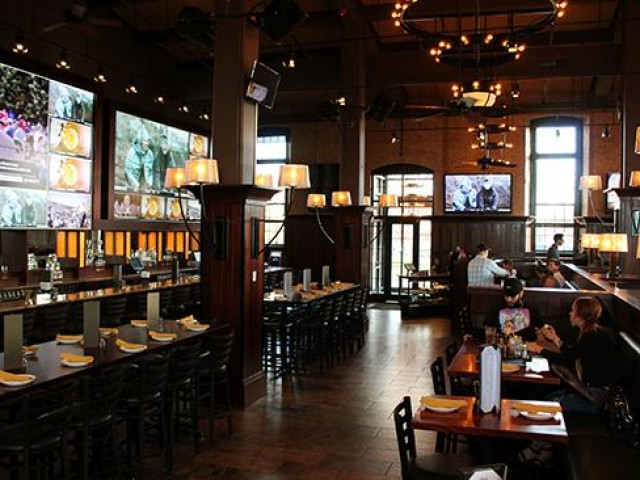 West Bay & South County: Rooftop at the Providence G in Providence, RI
Whether it's a warmer sunnier day or a chilly day where you will want to sit by the firepit, Rooftop at the Providence G is the perfect spot for a fun night out! Rooftop at Providence G is seven stories up in the center of downtown, and features outdoor dining, entertainment every night, fire pits and so much more!
East Bay & Aquidneck Island: Buskers Pub & Restaurant in Newport, RI
Buskers is Newport's best-known gastropub, which is a pub that specializes in serving high quality food at affordable prices. They are open every single day of the year for lunch and dinner, and also feature a bar that includes a large selection of Irish whiskeys, scotch, cocktails and over 20 beers on tap.