Four Diamond hotel debuts new South American-inspired menus exemplifying Chef Marcos Flores' fusion of cultures, flavors, ingredients and culinary ingenuity

On an unseasonably cool South Florida evening with a breeze that kept the humidity at bay, I nestled into the patio of the Gala & Muse Bar—the signature restaurant of the Four Diamond Hilton Aventura Miami with breakfast, lunch and dinner seatings. Overlooking the downtown Aventura skyline and seated at a table directly adjacent to the pool deck, my al fresco evening at Gala promised to be a memorable one…and the experience did not disappoint.
Gala, named after 20th Century surrealist Gala Diakonova, whose beauty inspired countless works by Salvador Dali, is in itself an artful respite. The chic space features curated art displays by local artists and an interior design that makes it both warm and sophisticated which, incidentally, is how I would describe the fare.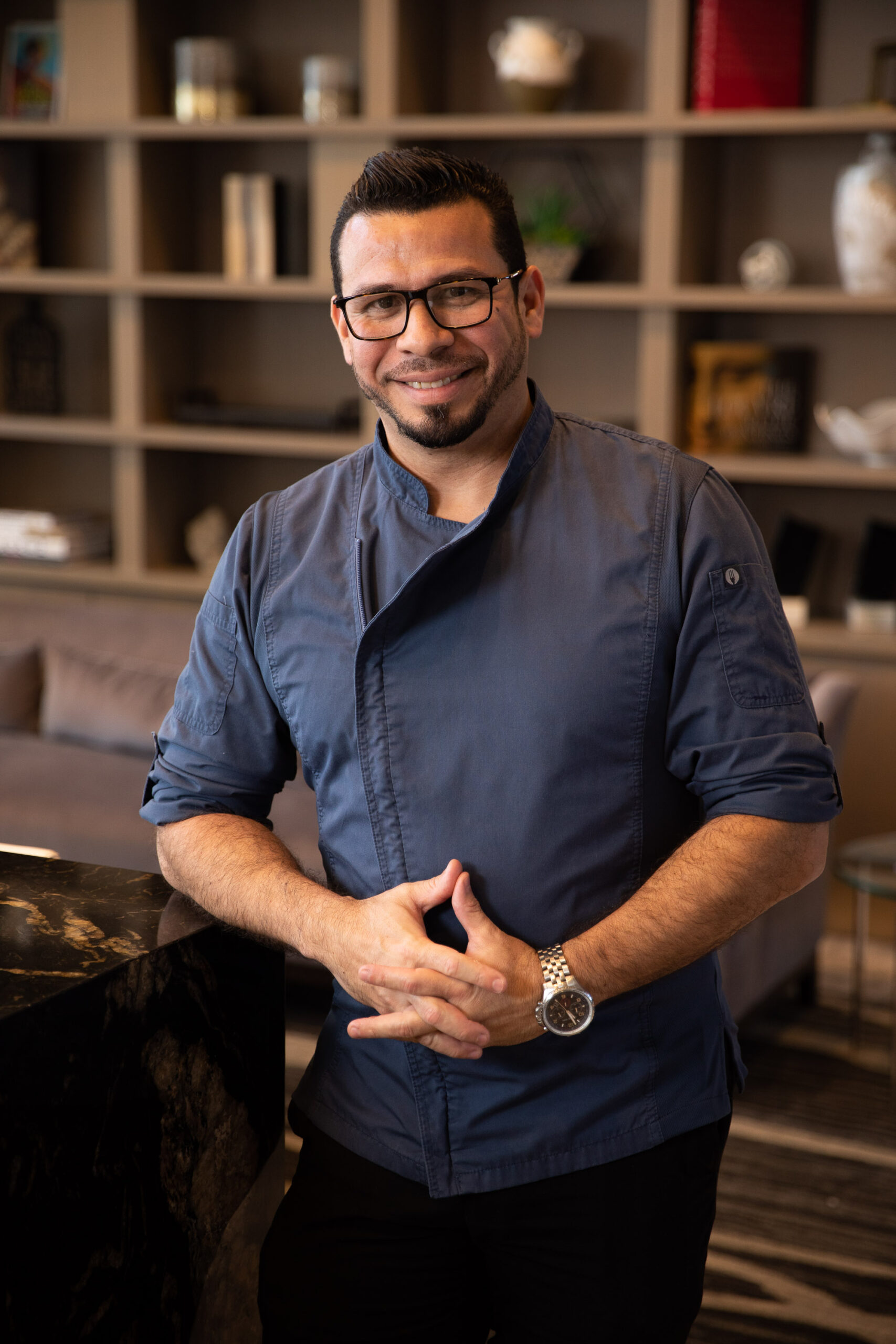 Helmed by Executive Chef Marcos Flores, who hails from Venezuela and has cooked around the world, Gala recently introduced an array of new dishes exemplifying South America and Latin Fusion cuisine while also reflecting Miami's insatiable appetite for seafood, tapas and globally inspired cuisine.
So enamored was I with the dinner outing, I connected with Chef Flores to learn more about his inspiration and intentions with the recently revealed dinner menu.
MK: What qualities set Gala apart from other dining options in the Aventura area?
CF: Our menu, and restaurant at large, offers an eclectic, memorable dining experience melding vivacious cultures into delicious dishes, which are served up in a communal atmosphere where guests can relax, enjoy and even commiserate with one another. It is a beautiful and serene destination that is enjoyed by a busy and diverse community.
Another huge advantage is our Muse Bar, which is the main focal point in the lobby. It's a sleek bar with floor-to-ceiling views of Aventura. The space is highlighted by a gorgeous centerpiece of silver sculptures suspended high above the bar, which features innovative drinks and light bites in a refined yet spirited setting. Here, our Mixologists create signature and craft cocktails that include the bubbly Effervescence, Chocolate Coconut Old Fashioned, Chile-Rita, Spiked Kombucha, Aperol Sour and more.
MK: Does GRMB have a "signature dish"?
CF: Yes, I would say our Crispy Skin Red Snapper with quinoa, smoked garden vegetables, lemon sauce and crispy fennel; as well as our Beef Barbacoa Short Ribs with creamy polenta, roasted root vegetables and crispy leeks.
MK: As far as appetizers, our Crabcakes with mango salsa, banana bread, rum butter sauce and micro cilantro are hugely popular, as is our Ceviche Mixto with red snappers, Florida shrimp, tomato-habanero broth, avocado, Florida citrus, tomatoes, chile dust and crispy sweet potato. Both are distinctive and truly amazing bites.
Small sharable dishes like our Spanish Octopus with aji panca adobo, charred corn salad, crispy fingerling potatoes and saffron aioli as well as our Woodland Mushroom Flatbreads with roasted mushrooms, goat cheese, caramelized onions, fig balsamic reduction and micro cilantro are new menu offerings making a big impact.
Those with a sweet tooth often tell me they crave our in-house created desserts, like our Passion Fruit Gelato and Warm Venezuelan Chocolate Cake. There's nothing better way to end an amazing meal.
MK: Tell me about more about your background – what are some career highlights?
CF: Originally from Caracas, Venezuela, I moved to Miami in 1999 and for the past 24 years have worked in restaurants from Miami and Chicago to Austin to Dubai. For 11 years, I was at The Diplomat in Hollywood where I worked my way up from line cook to Banquet Chef for four restaurants in the hotel. Throughout my career, I have worked with culinary luminaries including Top Chef Master Richard Sandoval—owner and operator of 50-plus global restaurants—as well as celebrity chefs like Jose Garces, Rick Bayless, Carlos Gaitan and others.

MK: What do you love about being based in North Miami's Aventura area?
CF: Because we are set in Greater Miami's upscale northernmost neighborhood of Aventura, Gala—and the Hilton Aventura Miami at large—already caters to a discriminating clientele for whom only the best will do.
The restaurant offers gourmet fare, while the property overall offers skyline views, an elevated pool deck, a fitness and yoga studio, the well-appointed Hilton Executive Lounge and more. As a centrally located hotel, guests and patrons enjoy quick access to popular area destinations and experiences like the Aventura Mall, Sunny Isles Beach and Gulfstream Park Racing and Casino. Plus, there's easy access to both Miami International and Fort Lauderdale International airports and we have valet parking, all making our restaurant and hotel and an idyllic home base for those exploring the best South Florida has to offer.
Overall, Chef Flores draws inspiration for his menus at Gala from the cuisines of Mexico and various regions of South America, known for melding culture, flavor and ingredients into victorious victuals. This Chef Flores offers in elevated and decidedly memorable form to the delight of fine dining devotees.
~~~
***Some or all of the accommodations(s), experience(s), item(s) and/or service(s) detailed above may have been provided or arranged at no cost to accommodate if this is review editorial, but all opinions expressed are entirely those of Merilee Kern and have not been influenced in any way.***