Britt's Best Bites of the Week
For true foodies, there is nothing more exciting than trying out a new restaurant, especially in a
beautiful, fun location! Visiting a new restaurant gives you the opportunity to visit a new place that you
have not been before as well as be introduced to some unique dishes and drinks that you have never
tried. And, what is better than trying out a new place that you know is "foodie accredited?" This week,
we're featuring some of "Britt's Best Bites'" favorite coastal locations that are an absolute must to add
to your restaurant bucket list. If you are in any of the following areas, be sure to give these restaurants a
try (you won't regret it!):
South Shore: Circe's Grotto in Scituate, MA
Circe's Grotto is best known for their quality and substance, using nothing but the best ingredients for their delicious sandwiches. At Circe's Grotto, you can always count on getting the best food at the best price, from a family whose passion for the restaurant business truly shines through.
Cape Cod & Islands: Freshroll in Mashpee, MA
Freshroll features all original family recipes with 100% plant-based organic ingredients! They additionally curate a seasonal selection that customers look forward to every year. At freshroll, you can order anything from spicy noodles to a warm "turkey" chickpea wrap! It is the perfect place for some uniquely flavored, delicious healthy options.
South Coast: Sweet Rose Cafe in Fall River, MA
Sweet Rose Café is a vegetarian bakery and sandwich shop that serves breakfast and lunch. All of their menu items are totally vegan, including their bakery items (which are also gluten free!) You can also stop by the Sweet Rose Café simply for some coffee or an espresso drink, with plant-based milk or dairy milk. Not to mention, it's the cutest hangout spot!
West Bay & South County: Iggy's Boardwalk in Warwick, RI
Iggy's Boardwalk in Warwick is a relaxed, family-fun restaurant that offers all of your favorite classic seafood, with a full bar and a patio with beautiful bay views. If you are not a seafood lover, Iggy's still has plenty of options for you, with everything from Chicken Parmesan to a Filet Mignon!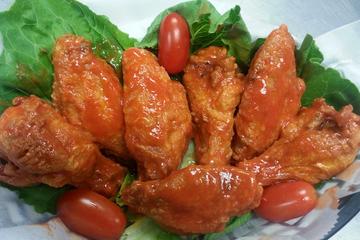 East Bay & Aquidneck Island: Sig's Place in Middletown, RI
Sig's Place is the perfect place to stop for sandwiches and prepared foods. If you are looking to host an event, you can also check out Sig's for their catering – as they have over 30 outstanding sandwich options to choose from! Additionally, be sure to try their fresh in-house cut French fries or their popular chicken wings.